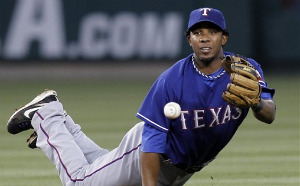 All-Star voting was halted Thursday night, with the most recent vote totals being released Monday and Tuesday. The final results will come out on Sunday, and some of the results will certainly be different than the most recent vote tallies.
However, the latest vote tallies are a great indicator of whom will get the All-Star nod, who will be snubbed and who doesn't belong on the list at all.
Let's take a look at the last-known vote totals for the
AL
and
NL
and see what jumps out, with the AL in this article and the NL up next...
In the AL,
Mark Teixeira
is somehow second in first base voting with 1.86 million votes.
Justin Morneau
leads with 2.1 million, so the chance is there for Tex to pull it out. However, he has gotten 2010 off to a very slow start and the two players behind Teixeira have had much, much better seasons:
Miguel Cabrera
and
Kevin Youkilis
. Simply put: Tex's .234/.345/.413 line prior to Friday play does not even sniff Morneau, Cabrera or Youkilis and he shouldn't be named to the team, let alone start.
Robinson Cano
,
Evan Longoria
and
Joe Mauer
lead 3B, 2B and C candidates, respectively, by a wide margin -- no complaints there. (But what's with
Adrian Beltre
fourth with just over 600,000 votes?) Shortstop has
Derek Jeter
leading
Elvis Andrus
(pictured) by almost two million votes. Jeter is certainly a deserving All-Star especially with a weak shortstop crop, but Andrus should have gotten more respect.
Jeter: .283/.343/.410, 8 stolen bases, 3 caught stealing, 361 plate appearances, 51 runs, 39 RBI, -1.7
UZR/150
, 2
+/-
Andrus: .292/.374/.332, 22 SB, 9 CS, 344 PA, 55 R, 24 RBI, 5.7 UZR/150, 8 +/-
To recap: Andrus kills Jeter on defense and stolen bases. Their batting averages are similar, but Andrus gets on base a lot more. Jeter has more pop, but is that really enough to beat out Andrus?
The DH has
Vladimir Guerrero
over a million ahead of second-place DH
Hideki Matsui
. Vlad leading the DH candidates isn't a shocker, as he's been on fire all year long and deserves the nod. But Matsui over
David Ortiz
, who hasn't even cracked a million votes? Ortiz has been one of the better power hitters in the game since putting his terrible slump to bed. Blame the
Red Sox
fans for not coming out in force for this one.
In the outfield, it's tight with
Ichiro Suzuki
and
Josh Hamilton
each with 1.9 million votes, but
Carl Crawford
and Nelson Cruz are nipping on their heels.
Nick Swisher
,
Curtis Granderson
and
Brett Gardner
-- the entire
Yankees
outfield mind you -- follow in the 5-6-7 spots. Granderson shouldn't even be in the top 10 and Gardner is a reach, but they are there because they play for the Yankees.
Torii Hunter
,
Magglio Ordonez
and
B.J. Upton
round out the top 10 with
Vernon Wells
a curious 11. And somehow,
Alex Rios
isn't even in the top 15 despite being one of the best all-around outfielders in the league. The same goes for Shin Soo-Choo.
My personal ballot would mark off Choo, Wells and Suzuki as the starters with
Nick Markakis
representing the
Orioles
. I could easily be talked out of Markakis -- he's simply on my ballot as the Orioles representative. But to not have Choo, Wells and Rios at or near the top of the voting leaderboard confirms that this is all just a popularity test. But you already knew that.
-- Evan Brunell

For more baseball news, rumors and analysis, follow @cbssportsmlb on Twitter.