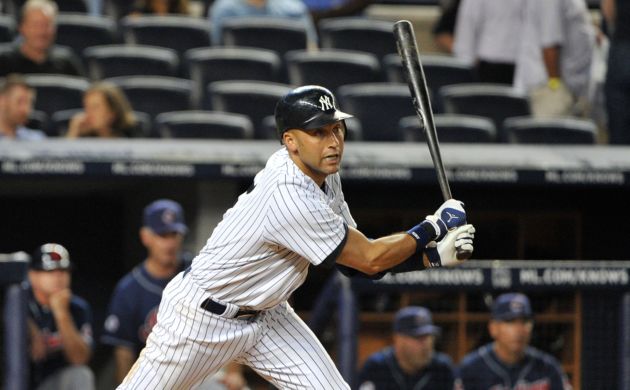 By Evan Brunell
Derek Jeter
went hitless Saturday, which means he now has five games left to collect nine hits, which is a tall task to ask Jeter to reach these days, as his .310-hitting days appear to be far gone. As is, it's extremely likely that the Captain will head out on the road on Friday needing a handful of hits for 3,000.
The
Yankees
will begin interleague play by heading to Wrigley Field next weekend and then kick off the new week with a visit to Cincinnati. Those are actually pretty fine places to get a 3,000th hit at; Wrigley is an iconic park and has seen a 3,000th hit before with
Cardinals
great Stan Musial netting his milestone there. Cincinnati, meanwhile, is where the iconic Pete Rose made his name as the all-time hit king.
It's no New York, though. Jeter's stature, plus the fact that no Yankee has ever gotten 3,000 hits, has propelled this particular chase to a situation where Jeter really should get hit No. 3000 at home, but how can New York make this happen?
The Yankees return home to host Colorado on Friday, June 17, so all they have to do is get through six games on the road. Jeter has played in every single Yankees game since May 5, a span of 32 games without a break. He's definitely going to play in the remaining five games on the homestand, as manager Joe Girardi and every Yankee fan will pray for a hot streak. That leaves Jeter in prime position to get a day off the first game of the
Cubs
series, as Girardi can shrug off benching Jeter as a normal off-day. Jeter will certainly need the break at that time.
Girardi could also look ahead to the final game of the
Reds
series, which is on June 22, as the next day is an off-day for the Yankees. Girardi could justify this as a way to give Jeter two consecutive days off. This is more commonly used for starting catchers, but it happens for position players as well.
That's four games left for Jeter to hit -- or more accurately, miss -- the milestone on the road. So let's turn to Joe Girardi's book, which has all measure of statistics in it. We find that Jeter's hitting just .246/.297/.301 against right-handers on the year (yuck) but is at .299/.405/.403 against left-handers. So the answer there is simple -- during the interleague swing where the DH can't be used, give backstop
Eduardo Nunez
a game with a right-handed pitcher on the mound.
Boom -- three of the six games on the road have Jeter on the pine. There's no question Girardi would be scrutinized for the reasons behind putting Jeter on the bench, but it's hard to argue with a day off, another day off that gets Jeter two straight off days, plus a benching against a right-hander to get Nunez and his defense in the lineup.
Only time will tell if Girardi would take this route, but he would certainly prefer Jeter to collect nine hits in a five-game span and make the point moot.
SATURDAY: Jeter was 0 for 4 on Saturday, failing to collect a hit for the first time since June 3, over a week ago.
HITS TO GO: 9
ALL-TIME LIST: Jeter will stand at 28th until he ties Roberto Clemente at 3,000.
NEXT UP: Jeter will face the Indians again on Sunday with five games to go on the homestand. Toeing the mound will be Josh Tomlin, whom Jeter is 1-for-3 against in his career.
For more baseball news, rumors and analysis, follow @cbssportsmlb on Twitter or subscribe to the RSS feed.