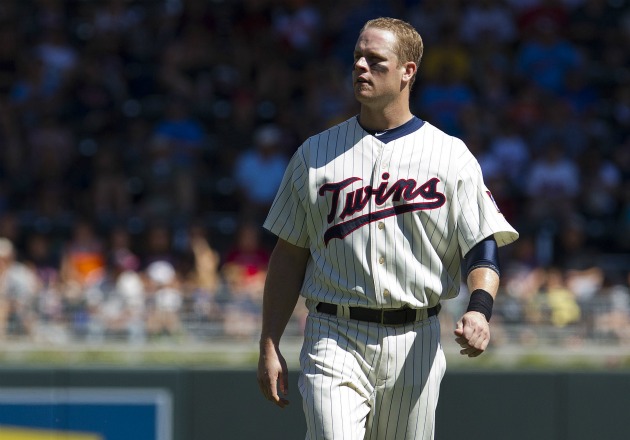 By C. Trent Rosecrans
Justin Morneau said the concussion symptoms that will keep him out until at least Friday are "nothing like" what he went through last year, and I'm sure that's true.
But the fact that Morenau began experiencing those symptoms (a headache and fogginess) on Monday and still had the remnants of the symptoms on Tuesday are scary. There's so little we know about concussions, there's little understanding of how our brains react to being move inside its casing and how long it can affect a human.
Morneau has had plenty of other problems this season, but until this week concussions hadn't been part of his problem -- or at least that we know. That's the thing with concussions, there's so much we don't know and we may never know. Science is a wonderful thing, but it takes time.
What is impressive is how the Twins have handled this -- they didn't rush Morneau back last season when they could have used him and they're taking all precautions this season. I hope this doesn't last the rest of Morneau's career, but I think it'd hardly be a surprise if it did.

There was a lot of attention to concussions last year in the NFL season, but this isn't just a football problem or even just a sports problem, it's a medical problem that we should all take a lot of interest in and make sure we understand as much as possible. Those who say it's just "ringing a bell" and players need to be "tougher" are just ignorant and it's a mindset that must be changed. [Star Tribune]
Game-changer: Technology isn't just great for fans -- the players are using technology in many ways to improve their games. ESPN.com's Jayson Stark takes an in-depth look at the way baseball is using technology, from iPads to using stats to predict pitching patterns. It's well worth the read.
Elite company: Marlins right-hander Javier Vazquez became the 30th pitch in major-league history to record 2,500 strikeouts in Tuesday's game victory over the Mets. [Miami Herald]
Rehab updates: Grady Sizemore will start his rehab assignment on Wednesday [MLB.com], while Boston's Kevin Youkilis and J.D. Drew started their rehab assignments on Tuesday -- Drew went 3 for 3 and Youkilis went 1 for 4 with a walk and reached on an error. [Dan Hoard]
Price of success: Remember Pirate Fever earlier this summer? Well, Pittsburgh fans are going to pay for it as the team is raising its prices for 2012. That said, the increase is modest from an average of $15.30 to $16.11 per ticket. The Pirates had the lowest average ticket price in baseball (in one of the best settings) for 2011 and will still be close, if not at, the bottom next season. The Pirates hadn't raised prices in a decade. The Pirates said most tickets would stay the same, decrease or increase by $3 or less. The dugout box seats will be raised by $5 -- but only $2 more than they were in 2002. [Pittsburgh Tribube-Review]
Favorite things: The Tigers wives put together auction gift baskets filled with players' favorite things every year, and you can learn a lot about some of baseball's best -- like Justin Verlander likes crappy food and crappy movies, Ryan Raburn loves killin' stuff, why Daniel Schlereth smells funny and that Phil Coke uses "liquid titanium massage lotion." [H/T MLive.com]
R and RBI: Curtis Granderson is leading the big leagues in both runs and RBI -- a feat that has been done just 19 times before, six times by Babe Ruth. [Baseball-Reference.com]
Wakefield pushed back: Tim Wakefield's seemingly never-ending search for his 200th win will be delayed a bit, as Red Sox manager Terry Francona told the knuckleballer that he's skipping his turn in the rotation for a turn. Andrew Miller will start Friday against Texas instead of Wakefield. Wakefield is 0-3 with a 4.97 ERA in seven starts since his winning No. 199. [Boston Globe]
Call ups: The clubhouse at Great American Ball Park could get pretty crowded. Reds general manager Walt Jocketty said "quite a few" players will get called up when the rosters expand. The most heralded is catcher Devin Mesoraco, who Evan wrote about Tuesday. [Cincinnati Enquirer]
In-flight entertainment: You may be able to watch baseball games live on your phone on a flight. [Los Angeles Times]
Father-son show: Former Met Howard Johnson, 50, will play alongside his son, Glen, for the independent Rockland Boulders of the Can-Am League on Sunday and Monday. [New York Daily News]
Cool card: Check out these awesome baseball cards fans got when they went to a My Morning Jacket concert in Philadelphia last week. Very, very cool. [UniWatch Blog]
For more baseball news, rumors and analysis, follow @eyeonbaseball on Twitter or subscribe to the RSS feed.