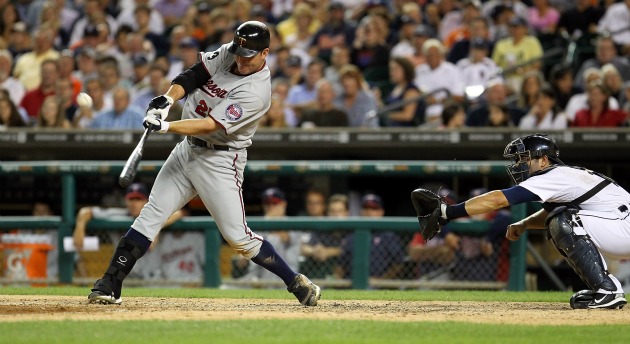 By C. Trent Rosecrans
I don't think there's any doubt Jim Thome will be in the Hall of Fame, but I did find it interesting that my wife had never heard of Thome.
The guy hits 600 home runs and the wife of someone whose life revolves around baseball had never heard of him. How is that possible? I thought chicks dug the long ball.
Much of it, I guess, is that my wife is a National League kinda gal -- having been born in raised in Braves country and now living in Cincinnati, the wife doesn't see much American League or even pay much attention to it. But still, Jim Thome? I went through the teams -- Indians, Phillies, White Sox, Dodgers, Twins -- nope, not a flicker of recognition. The 1995 World Series when the Braves won? Well, He did only go 4 for 19 in the series.
It seems strange that she'd never heard of him, but it also seems to jibe with the relative silence of Thome's march to 600. Is it because Thome has always just been a quiet professional? He's never been in trouble, never even pounded his own chest. He's just been quietly hitting home runs and doing his job, day in and day out.
It's not that he's never been on the biggest stage, he's played in 67 postseason games and made it to two World Series, hitting one homer in 1995 and two in the '97 Series.
My friend Kevin Goldstein of Baseball Prospectus has a funny theory of the Hall of Fame -- for him it's all about the fame. If his mother has heard of someone, they belong. If she hasn't, no. So for KG's Hall of Fame, Paul Molitor is out, but Jose Canseco is in. Rod Carew? Nope. Bo Jackson, yes. I'm pretty sure Thome doesn't hit the fame standard, but he certainly belongs in the Hall.
Here's a couple of better articles putting his candidacy in perspective -- Joe Posnanski of Sports Illustrated has the backstory of Thome's bat point at the pitcher and other things in a great blog post and Steven Goldman has the argument against Thome being a mere "compiler."
Meals in Pittsburgh: Umpire Jerry Meals made his first appearance at PNC Park in Pittsburgh since his bad call that cost the Pirates a 19-inning game against the Braves. As you would expect, he was not greeted kindly by Pirates fans. Since the call, the Pirates have lost 15 of 19 and fallen from a tie for first place to fourth place in the National League Central. [Pittsburgh Tribune-Review]
Silly deadline: I understand why there's a deadline for signing draft picks and I even understand why it's in August, but I don't understand why it's at midnight. I talked to a scouting director on Sunday (and because it wasn't the Blue Jays' scouting director, he signed his first-round guy) and he said there's zero movement until late on Monday. On Sunday, there'd been no movement, but because these things go down to the wire, why not make move the wire up to a reasonable hour? How about 5 p.m. so you can announce it before a game and have everything all tidy? They've done that with the trade deadline, now with the increased focus on the draft, they need to do it on the signing deadline.

Full moon in Cooperstown: Did Robin Yount give Bert Blyleven an unusual greeting to the Hall of Fame? [FanGraphs.com]
Scranton is nice in September: Yankees general manager Brian Cashman said it's unlikely the team would call up top pitching prospect Manny Banuelos when rosters expand in September. [New York Post]
Nicasio visits teammates: Juan Nicasio, who suffered a broken neck on Aug. 5, visited his Rockies teammates before Monday's game in Denver. Closer Houston Street told the Denver Post that Nicasio was "full of life," smiling and laughing with teammates.
Career cut short: A Padres prospect had to retire from baseball at 22 because of an inner-ear problem. Read all about Drew Cumberland. [Pensacola News-Journal]
Another good guy: This seems to fit with the Thome celebration, but if Thome's not the nicest guy in the game, Torii Hunter may be. Like Thome, I've never heard anyone say a bad thing about Hunter. In fact, I have a sportswriter friend who has a long list of people he doesn't like, but he named his dog Torii in honor of Hunter. Here's a good story about one of the good guys from ESPN.com's Jim Caple.
Read this: A really good story this weekend from the New York Daily News about baseball and Sept. 11. Go read it.
It's gotta be the shoes: Evan Longoria's new spikes have made a huge difference for the Rays' third baseman. [MLB.com]
Literary touch: I've only been to Safeco once (well, three games, one series), so I don't know all the ins and outs. I will say I love the park, but maybe even more so after seeing this from the Boston Globe's Peter Abraham -- the park has baseball-themed quotations on all its gates to the park. That's just so darn cool.
Murph blogs: One of the most interesting baseball blogs around right now is from former MVP Dale Murphy, who is enjoying blogging and Twitter. [New York Times]
New caps: Gone, apparently, are the ugly stars and stripes trucker caps to make a buck, and in their place for Sept. 11 will be simple American flag patches. It's certainly an improvement, but still not sure why everyone needs to be reminded what country they live in -- shouldn't the butchered version of the Star Spangled Banner by some American Idol-wannabe before the game be enough?
New caps 2: That said, I do think it's cool that the Nationals will wear a cap with the Navy SEALs logo tonight to honor the 22 SEALs killed in Afghanistan on Aug. 6. It's the Nationals' first game back in Washington since the attack. [Washington Post]
Odd sight: There was something odd on Sunday in Dayton, Ohio -- empty seats. Home of professional sports' longest sellout streak, Dayton's Fifth Third Field had empty seats on Sunday as the Dragons and Lake County Captains played a continuation of Tuesday's suspended game was played before the regularly scheduled Sunday game. However, once that game started, the Dragons had their 832nd consecutive sellout. [Dayton Daily News]
Step back for Carter: Sad news today, as Gary Carter learned of a "mild step backward" on Monday, as a doctor's visit revealed his white blood cell count was low, which means he won't be able to start a scheduled round of chemotherapy that he was supposed to start today. [ESPN.com]
For more baseball news, rumors and analysis, follow @eyeonbaseball on Twitter or subscribe to the RSS feed.