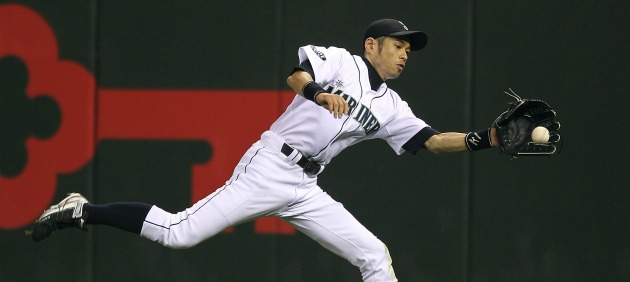 By Evan Brunell

As C. Trent Rosecrans explained when selecting the most-deserving players to
win the NL Gold Glove
, it's one of baseball's most difficult awards to give out.
An award that should specifically celebrate the aspect of defense in baseball is instead largely given to those who are considered good defenders, but who reign supreme in popularity and offense. With managers and players voting on the award, you sometimes see some strange occurrences -- such as Rafael Palmeiro winning a Gold Glove in 1999, when he played just 28 games at first base while functioning as a DH.
Here, though, defense rules and offense drools. Let's take a look at some of the best defenders the game has to offer...

Catcher: Matt Wieters, Orioles
-- Wieters doesn't have fantastic range, but he has plenty. Combine that with great hands that have led to a .995 fielding percentage and just one passed ball all season, and it's easy to see why the Oriole receives the nod for the award. Also, runners fear Wieters' arm -- he's only allowed 56 stolen bases all season, while the next-lowest total among catchers who qualify for the batting title is
J.P. Arencibia
's 77, achieved in 10 less starts. Oh, and Wieters has nabbed 32 runners for a caught-stealing rate of 36 percent, a high percentage for a catcher.
Others considered:
Alex Avila
,
Russell Martin
,
Jeff Mathis
First base: Mark Teixeira, Yankees
-- What Texiera has over his competition is the ability to do everything a regular first baseman is asked to do -- except very well. He brings the complete package to the table, showing an uncanny ability to scoop balls out of the dirt and possessing enough speed and quickness to make plays out of his zone. No matter what defensive aspect you bring up, Teixeira is among the elite, both in the eyes of scouts and in defensive statistics.
Others considered:
Adrian Gonzalez
,
Casey Kotchman
,
Mark Trumbo
Second base: Dustin Pedroia, Red Sox
-- Pedroia's fielding has been a major boon to his overall value this season. His numbers at the keystone position are what has vaulted him into the fringes of the MVP race and he dominates the game in all facets fielding. Range, plays out of the zone, total balls handled, errors ... no matter what you throw at Pedroia, he's going to go all out to get to the ball and make the play, which happens more often than not.
Others considered: Howie Kendrick,
Ian Kinsler
,
Ben Zobrist
Third Base: Adrian Beltre, Rangers
-- Beltre somehow only has two Gold Gloves despite a career of success. That success continues in 2011 in Texas, as Beltre has tremendous range compared with soft hands.
Evan Longoria
is a fantastic defender as well, but in the AL there simply is no comparison to Beltre. With 11 errors, Beltre is on pace to post his lowest error total since 2004, when he had 10.
Others considered:
Alberto Callaspo
, Evan Longoria,
Brent Morel
Shortstop: Brendan Ryan, Mariners
-- There's some pretty good competition at shortstop for best defender, but Ryan takes home the honors, showing the junior circuit how it's done in his first season in the AL. Ryan has an impeccable reputation on defense and did nothing to sully that reputation in Seattle.
Elvis Andrus
and
Alcides Escobar
, also in his first year in the AL, gave Ryan a run for his money and is also deserving of this award. Only one can win it, though.
Others considered: Elvis Andrus, Alcides Escobar, Alexi Ramirez
Left field: Brett Gardner, Yankees
-- Was there any doubt? Gardner absolutely blows away the competition in left field. His prowess is so remarkable, words can't describe it. Luckily, there's a graphic drawn of his amazing range compared to the average left fielder, which you can
view right here
. There really isn't another left fielder that comes close, not even perennial Gold Glover
Carl Crawford
, who has seen his defensive numbers suffer due to the Green Monster. As advanced as metrics are these days, the Green Monster still fouls up the data, but Gardner is too far ahead of the pack that even adjusting for the Monster would still leave Gardner the clear victor.
Others considered:
Alex Gordon
,
Vernon Wells
Center field: Austin Jackson, Tigers
--
Like shortstop, center field is littered with strong defenders. That isn't a surprise, given the emphasis placed on both positions being strong defensively. Jackson has made himself at home in Comerica Park's spacious outfield, running down 114 balls outside of his zone. That's an astronomical number, and Jackson blends it with a strong overall game, even if his arm could be stronger.
Others considered:
Peter Bourjos
,
Franklin Gutierrez
,
Jacoby Ellsbury
Right field: Ichiro Suzuki, Mariners
-- Ichiro Suzuki simply does it all, with strong talent across the board. He knows where to go when the ball comes off the bat, rarely out of position. While Suzuki is 37, he still has enough speed to cover the ground required of him and continues to flash a strong arm, even if runners quit running on him 10 years ago.
Others considered:
David DeJesus
, Jeff Francouer,
Torii Hunter
,
Nick Swisher
Pitcher: Mark Buerhle, White Sox
Buehrle has been considered the class of fielding pitchers since Greg Maddux retired and is working on two straight Gold Gloves. Buerhle's claim to fame on defense comes from
this play on Opening Day 2010
, which was the best fielding play of the entire season. As a left-hander he adds that much more value on defense with the ability to hold runners closer to first base, limiting steals.
For more baseball news, rumors and analysis, follow @EyeonBaseball on Twitter or subscribe to the RSS feed.