By C. Trent Rosecrans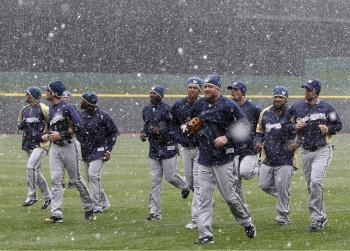 CINCINNATI -- I just got back from Great American Ball Park where the Brewers and Reds had shortened workouts because of the snow in Cincinnati. Meanwhile, up the road in Columbus, the exhibition between the Indians and their Triple-A Columbus team was suspended after 2 1/3 innings because of snow and icy field conditions.
The good news is that the snow has stopped in Cincinnati and is expected to be dry, although cool, at gametime tomorrow, where it's predicted to be 44 degrees and cloudy for the 2:15 first pitch.
"And you believe them?" Reds manager Dusty Baker said. "If there's one thing I learned about Ohio, it's never count on what they say [the weather will be.]"
Cleveland doesn't start until Friday, hosting the White Sox. According to Weather.com, there will be a high of 42 and partly cloudy for the Indians' opener.
Other forecasts for tomorrow from Weather.com:
Braves at Nationals -- 43 with light rain at 1 p.m. EST
Tigers at Yankees -- 44 with showers at 1 p.m. EST
Angels at Royals -- 51 with showers at 4 p.m. EST
Padres at Cardinals -- 54 and partly cloudy at 4 p.m. EST
Giants at Dodgers -- 82 and sunny at 8 p.m. EST
For more baseball news, rumors and analysis, follow @cbssportsmlb on Twitter or subscribe to the RSS feed.