By Evan Brunell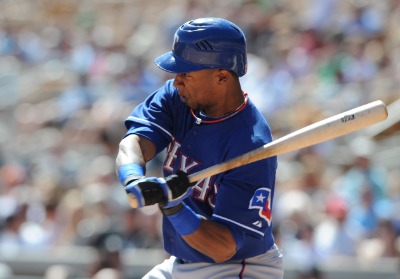 A former first round pick, Julio Borbon has received ample opportunities to lock down the Rangers' center field job this spring, as well as collecting 468 plate appearances in 2010.
However, Borbon (pictured) has yet to show any measure of consistency on defense and offense. Last season, Borbon hit .276/.309/.340 and was relegated to the bench for the postseason. His offense was so checkered that outside of two months (April at .917 and September at .677), his OPS was under .600, which is absolutely brutal.
However, Borbon still has the talent to develop into a dynamic leadoff hitter, and Texas went into spring training with the idea that he would claim the center field job and allow the club to push Josh Hamilton to left.
While Borbon has largely delivered on the offensive ledger for spring training with a .348./375/.435 line in 46 at-bats and four stolen bases, he's also tacked on five errors and has looked lost in center.
That could open the door for David Murphy, long the No. 4 outfielder who plays often enough to get a ton of at-bats. The same could happen again this season should Borbon start the year in Triple-A or assume a platoon role. Platooning would likely push Josh Hamilton back to center and slot Murphy into left, although Murphy is hoping to prove his worth in center, where he has rarely played.
"When I have gotten an opportunity to play there in the big leagues, I haven't played well," Murphy told ESPN Dallas. "That's just kind of taken my chances away to play there regularly. But obviously, they're trying to see if I can play out there and I would like to. I need to improve out there. I need to get re-acclimated to the feeling of playing out there and play well when I get a chance."
There's no questioning Murphy's bat, as he's racked up a career .282/.342/.460 line in 1,552 plate appearances and reaching 467 PA last season. Defensively, however, if Murphy can't play center, it will restrict his ability to force his way in the lineup should Borbon receive everyday playing time.
"When you're in center field, you have to cover ground," Murphy said. "One false step can mean a few feet in range that you might not catch a ball. I think that's the big thing that I need to work on."
Meanwhile, the Rangers are focused on determining just what Borbon can provide the club.
"He's been up and down," manager Ron Washington told the Dallas News. "He's been doing a lot of good things, mixed with some things that need to be corrected. The down has only been on the defensive side.
"He's made some pretty good defensive plays. He just has to be more consistent. We feel like he can play good defense. We hope he straightens it out pretty soon."
Borbon was unable to corral a ball that turned into a triple off the wall in center field that a speedy center fielder should have tracked, although Washington declined to say whether the catch should have been made or not.
If Borbon doesn't make the roster, Hamilton would almost certainly return to center even if Murphy shows improvement in left field. That would presumably give Endy Chavez a great opportunity to make the club as backup outfielder with no other clear solution on the roster as Craig Gentry -- the only other feasible solution -- has been hobbled by injury.
For more baseball news, rumors and analysis, follow @cbssportsmlb on Twitter or subscribe to the RSS feed.