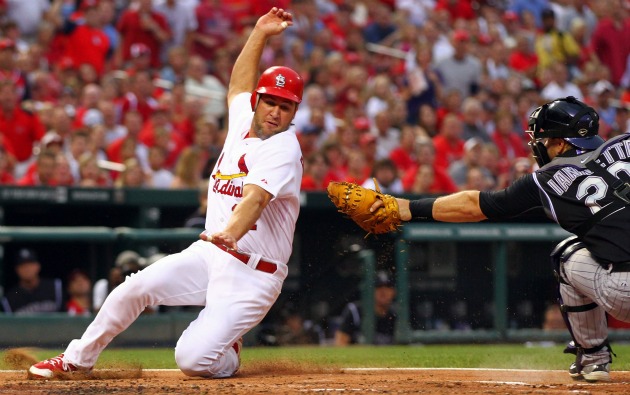 By Evan Brunell

Lance Berkman
is having an impressive year, bouncing back from a dispiriting 2010 that saw him leave Houston, where he had spent his entire big-league career, and join the
Yankees
for a brief, forgettable stint.
Written off as a viable player, the surprise and scorn by the public was evident when the
Cardinals
inked Berkman to a one-year deal worth $8 million to play right field. Somehow, it's worked out so far. While Berkman's defense leaves much to be desired, he's hitting at a clip not seen since 2006, as he's bashed 28 home runs with a line of .294/.407/.583 over 435 plate appearances. Now, Berkman's going to be in demand as a free agent. Even being 35 won't faze teams who will be glad to hand him a one-year deal -- if not two years -- to contribute his thump in the middle of the order.
Except, to hear Berkman tell it to the
St. Louis Post-Dispatch
, he may not be around next season.
"At this stage of my career, it's safe to say that if I'm not thrilled with the opportunities out there for me after this season, this would be it," Berkman said.
The slugger won't need to be concerned about any job prospects this offseason, but the point Berkman is trying to make is clear.
"If I'm playing, I want to be playing for more than just numbers," he said. "I've accomplished pretty much everything I had hoped to accomplish in my career. I've made a lot of money. I've had personal success and been a part of some great teams. The one thing I haven't done is be part of a world championship. I'm going to be 36. I'm not going to play just to play."
St. Louis is tops among the places where Berkman hopes to play next season, and if by some shocker the team doesn't bring back
Albert Pujols
to play first, it's easy to envision the Cardinals turning to Berkman to fill the gap. Even if Pujols returns, Berkman's production would motivate St. Louis to stick him into right for another year, but the Berkman admitted that there were "three or four" destinations, St. Louis included, where the lefty would like to play next season in case St. Louis can't bring him back.
"I've absolutely loved it here" in St. Louis, Berkman said. "Everything about the city and the team has been what I had hoped. I'd love to come back but I also recognize they have some big decisions to make with some pretty big guys. Right now, I'm not assuming anything."
A return to Texas could be possible as the
Rangers
could be in need of a first baseman or DH. Berkman seems to have conceded that there is no longer a fit with the
Astros
, so the Rangers would represent his only chance to play in Texas. Other locations where he could start and be part of a competitive team include the
Giants
, Yankees,
Red Sox
,
Angels
,
Brewers
and
Rays
.
GM John Mozeliak said he has yet to reach out to Berkman about a contract extension, but intends to do so before the end of October.
For more baseball news, rumors and analysis, follow @EyeonBaseball on Twitter or subscribe to the RSS feed.