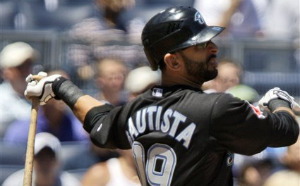 Unsurprisingly, home-run leader
Jose Bautista
is drawing trade interest from multiple teams.
Yahoo Sports' Jeff Passan
reports
that interest has been expressed by the
Braves
,
Giants
,
Tigers
and
White Sox
. All are in sore need of offense, and the versatile Bautista can play any outfield position as well as third base. While he doesn't have much experience at first and second, he has also appeared at those positions.
With 26 home runs, Bautista can bring serious punch to any offense willing to live with his .241 batting average backed up by an excellent .358 OBP. He is also tremendously affordable, making just $2.4 million in his third year of arbitration. He has one more year to go before becoming a free agent and will be in line for a massive pay raise, which is undoubtedly part of San Francisco's motivations.
SI.com's Jon Heyman
says
the Jays could be seeking middle infielders, with Emmanuel Burriss and Ehire Adrianza from the Giants drawing interest. It's unclear why Toronto would want middle infielders given they are pretty set with
Aaron Hill
and
Yunel Escobar
up the middle, but they don't have a ready-made long-term third baseman that one of these middle infielders could fill. Escobar has also been bandied about as someone who may eventually need to move to third.
Continuing the middle infield theme, the Braves could dangle All-Star utility infielder
Omar Infante
, who could stand to grab more playing time. They don't have a top prospect down the farm, although third baseman Mycal Jones is intriguing.
The Tigers have a sore spot in middle infield, so they wouldn't seem to be a fit there. In fact, Bautista would be leveraged to help fill the hole that was created by
Brandon Inge
's injury.
The White Sox have top prospect
Gordon Beckham
, but he's not moving
unless for a major piece
like
Prince Fielder
. Brent Morel or
Dayan Viciedo
-- both third basemen -- could be had, however.
It's certain that the Jays will also be on the hunt for an outfielder to replace Bautista as well as the biggest commodity in ball: pitching.
-- Evan Brunell


For more baseball news, rumors and analysis, follow @cbssportsmlb on Twitter.