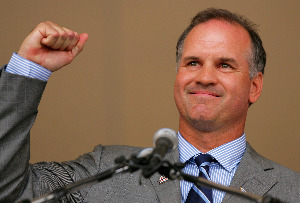 Ryne Sandberg is apparently not going to play coy. He wants to be the next manager of the
Cubs
.
Appearing on a radio show in Chicago, Sandberg did not mince words when asked whether he is prepared to take over when Lou Piniella retires at the end of the year. The Hall of Fame second baseman is managing the Cubs' Triple-A team.
"I am ready. I sure am. [After] four years of managing at the minor league level, I'm ready for a major league job, and I'm ready to win," Sandberg said. "The reason I went this route was to manage, not to coach.
"There is a lot to managing, and with almost four years under my belt, I believe I'm ready. I'm not interested in on-the-job learning or on-the-job training. At this point, I'm interested in winning ballgames at the major league level."
Given the disappointment surrounding the Cubs, and his legendary status among Cubs fans, Sandberg has to be considered the front-runner for the job. But general manager Jim Hendry told reporters Wednesday that he's not rushing into anything.
"One of the advantages of the way we're doing it, and with Lou announcing that he was going to retire, is that we're going to take our time," Hendry said. "This process is going to take a couple of months. ... It will be a long and very intense search. A lot of people will be considered."
A source told ESPNChicago.com that the Cubs will interview former Marlins manager Fredi Gonzalez, who has a history with Hendry. Gonzalez has been rumored to be the favorite to replace the retiring Bobby Cox in Atlanta.
-- David Andriesen
For more baseball news, rumors and analysis, follow @cbssportsmlb on Twitter.