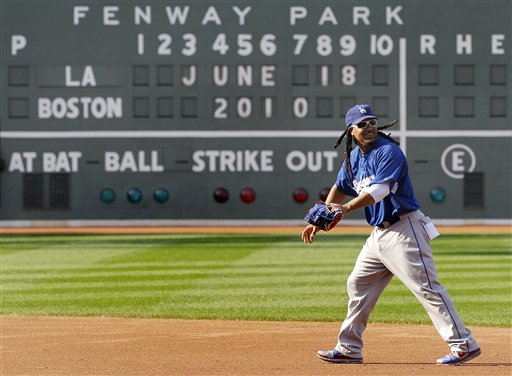 Once again on Friday, the rest of the baseball world was held hostage to the self-loathing, self-importance that can only be the world surrounding the Boston
Red Sox
.
We've all understood the ESPN has solid itself out to the new Evil Empire, turning Baseball Tonight into NES(P)N, but now MLB Network is joining the show.
Even though MLB Network -- which usually does a good job of showing teams other than the Red Sox and
Yankees
-- was televising
Stephen Strasburg
's third start, we got a slow music, fuzzy focus on the good times and bad times from Tom Verducci. Verducci, who is usually above such hyperbole, called the Red Sox fans' reaction a "referendum" of Ramirez's 1,083 games with the Red Sox.
And then, with two outs in Washington and a runner on third, we get a cut in to
Andre Ethier
's at-bat in Boston, just so we could get all of the Manny overreaction. Of course, Either grounded out, so we got another break in when the second inning started in Boston.
So what was the result? Well, about what you'd expect from a crowd of 37,000 or so -- a little bit of everything. There were cheers from people in Red Sox garb, more from those who braved Fenway in Dodger gear, some boos, an aborted "Man-ny" chant, camera phones taking crappy pictures, some guy with a smirk with a sign about steroids who isn't nearly as clever as he thinks he is. In the end, the Boston fans had an opportunity to show why they think they're the center of the baseball universe -- and unfortunately much of the baseball world once again obliged.
And in the anticlimactic moment of the night, Ramirez swung at the first pitch and lined out to center.
Oh, and Roger Clemens is at the game. Be still my heart!
-- C. Trent Rosecrans
For more baseball news, rumors and analysis, follow @cbssportsmlb on Twitter.