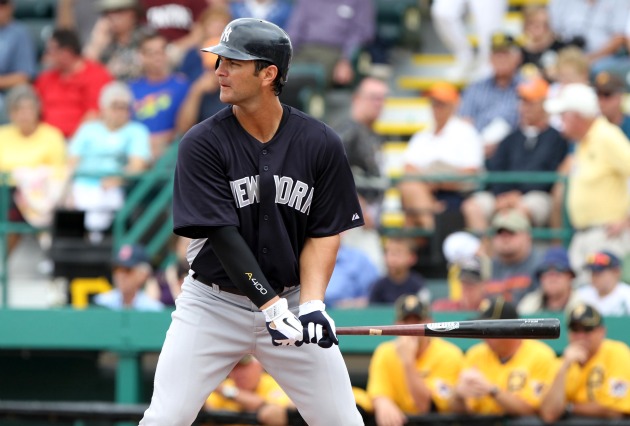 Eric Chavez was once headed to the Hall of Fame.
At least, that's what Athletics GM Billy Beane believes.
"If you take a look at those seasons, understand that he was just 26 and extrapolate it to a 12-, 13-year career, you are talking about a guy who is going to end up with 400 or so homers and 10-12 Gold Gloves," Beane said.
Up through the 2004 season, Chavez was one of the better young third basemen in the game with three Gold Gloves on his resume along with a career .277/.354/.502 line with 163 home runs in 3,507 plate appearances -- posting a career-high 29 home runs in 2004 despite playing in 125 games. Chavez was extremely durable at the time, appearing in over 150 games from 2000-03 and would hit 160 games played in 2005. Beane studied data that showed players who hit the majors early and produced (such as Barry Bonds, Alex Rodriguez and Derek Jeter) would go on to have a long career.
Thus, Beane inked Chavez to a six-year, $66 million deal and eschewed long-term deals for Miguel Tejada or, later, Tim Hudson, Mark Mulder and Barry Zito.
"Up to that point, he had been very healthy," Beane said. "And if you take away the injuries, he would have been in the conversation [for the Hall of Fame]."
Now, Chavez is looking to extend his career at age 33, a shell of his former self and one who had to turn down more playing time with the Dodgers for fear that his body wouldn't hold up. He is currently on track to make the Yankees' roster as a bench player. (New York Post)
White Sox PICK WINNING: ChiSox owner Jerry Reinsdorf revealed that Chicago chose to spend money in free agency rather than rebuild. "We just could not see where the players we would have remaining were going to bring us the talent we needed to get better in 2012," Reinsdorf said. "So that just left us looking into what do we have to do to get better than Minnesota." (ChicagoBreakingSports.com)
I'LL STAY, THANK YOU: It's not often you hear of a star indicating he wants to stay in Kansas City, but that's exactly what 26-year-old Joakim Soria wants to do. Even the prospect of a brutal 2011 doesn't faze him, with the closer indicating he believes in what the Royals have done so far and sees a bright future. The Royals, for their part, have no interest in trading a player expected to be a linchpin of the next contending K.C. club. (Kansas City Star)
A MAN AMONG BOYS: Joe Posnanski spins a story of the best offensive players on a World Series team, and it isn't close. George Brett tallied up 8.0 wins above replacement for the 1985 Royals, with the offense as a whole contributing 8.9 WAR. Also: Should Brett have won 4 MVPs instead of one? (Joe Blogs)
MUSIC TO BASEBALL'S EARS: Check out this really cool picture (and video, if so inclined) by a musician in the National Symphony Orchestra. What's cool about it? The musician is playing a violin made out of a baseball bat. (Fangraphs.com)
SNEAK PEEK? This season, the Tucson Padres will adorn what may eventually be the San Diego Padres' uniforms. The Padres president indicated in the past that the club may go to a more retro feel in the future, which Tucson certainly has while keeping San Diego's current color scheme. (San Diego Union-Tribune)
BE REAL: That's what Dusty Baker says in an interview, Esquire-style. A great look into the mind of one of baseball's more successful managers of the past two decades. (Cincinnati Enquirer)
TEN MORE YEARS IN PALM BEACH: A deal has been reached that could keep the Marlins and Cardinals in Palm Beach, Fla. for the next 10 years provided the spring training stadium is upgraded. Both teams can opt out of the agreement in 2017 if less than four teams remain in Southeast Florida, which would complicate travel. (South Florida Sun-Sentinel)
HERE TODAY, GONE TOMORROW: The Royals' reassigned top prospects Eric Hosmer and Mike Moustakas to minor league camp in order to get at-bats and turn the focus at the major-league level toward getting Mike Aviles, Wilson Betemit and Kila Ka'aihue ready for opening day. (MLB.com)
For more baseball news, rumors and analysis, follow @cbssportsmlb on Twitter or subscribe to the RSS feed.