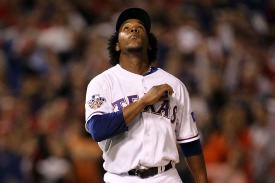 The Rangers will likely keep Neftali Feliz as closer, reports USA TODAY's Bob Nightengale.
The Rangers are concerned about their ability to replace Feliz in the closer's role this season, with manager Ron Washington and team CEO Nolan Ryan also indicating concern.
"Who do we have in our bullpen that's closed ballgames down?" Washington asked, according to ESPN Dallas. "We ain't talking about 'might be able to.' This ain't about 'might be able to close a ballgame down.' We need somebody that's bona fide to close ballgames down. But, like I said, if we need to stay in-house, we'll figure that out."
Internally, the team has Mark Lowe and Alexi Ogando as options for the closer's role, although Ogando is also being considered for the rotation. There hasn't been any thought toward Arthur Rhodes or Darren Oliver filling the closer's spot, so unless the team is comfortable with going a reliever with no closing history, Feliz will be the man.
Feliz has been stretched out all spring training and recently said he wants to start, a change from indicating he would prefer to remain as closer. However, given the club's obvious concern about who would replace Feliz as closer, it's clear an announcement switching Feliz back to the role that earned him the AL Rookie of the Year Award last season will come soon.
But Feliz's future remains in the rotation, as Nightengale expects the right-hander to start in 2012, adding that there will be a lot of closers on the free-agent market this offseason. Given Texas' resources, the club has a reasonable expectation of being able to sign one of these closers. Heath Bell, Jonathan Broxton, Matt Capps, Francisco Cordero, Frank Francisco, Ryan Franklin, Brad Lidge, Joe Nathan, Jonathan Papelbon, Francisco Rodriguez, Rafael Soriano, Koji Uehara and Jose Valverde could all hit the market. That's a lot of closers, and Texas certainly can expect to walk away with one of those names.
Given Feliz's talent and success so far in spring training, one could argue the move should be made now to get a possible ace in the rotation. But the Rangers clearly are concerned about filling the closer's role to the point where they would prefer Feliz to close. The club doesn't have fantastic arms for the rotation, but they have enough depth that it's certainly defensible to put Feliz into the closer's role again. But Feliz's long-term role still best profiles as a starter.
For more baseball news, rumors and analysis, follow @cbssportsmlb on Twitter or subscribe to the RSS feed.