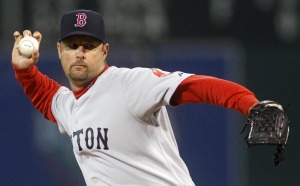 While
Tim Wakefield
refused to close the door completely, he conceded Friday that 2011 would probably be his final year playing baseball, according to the
Boston Globe
.
"There are still some numbers I want to achieve," the 44-year-old admitted. "But I'm not going to put that much pressure on myself knowing that this probably will be my last year. I'm not going to come out and say I'm going to retire at the end of the 2011 season. But getting closer to the end, I'd really like to enjoy it more than I did last year."
The numbers Wakefield is shooting for are 192 and 200. The latter is career victories, of which he has 193. As for the 192? That's the most anyone has ever won in a
Red Sox
uniform with the honor belonging to both Cy Young and Roger Clemens. Wakefield has 179 victories in a Red Sox uniform. Wakefield has stated in the past it is a major goal of his to match and surpass No. 192. While that no longer looks to be attainable due to only four victories in the 2010 campaign along with the understanding that Wakefield will not be a starter in 2011, the knuckleballer will get his victories where he can.
"I proved to them I could throw more than 100 innings," Wakefield said of a year where he posted a 5.34 ERA in exactly 140 innings spread over 19 starts and 13 bullpen appearances. "That was supposedly estimated what I was going to throw. I gave them 140 and proved I could stay healthy for the whole season. Hopefully I can do that again."
It may be tough for Wakefield to reach 140 innings next season as a reliever, although injuries could change things in the rotation. Wakefield, for one, is over last year's brouhaha where he was not pleased about being removed from the rotation.
"Regardless of what my role is going to be [next season], I think I'm going into it with more with my eyes open compared to last year," he said. "It was thrown in my lap that this is the situation and I was a little reluctant to accept it based on what I had done in '09 and the loyalty I had shown the club. That's water under the bridge, last year. I'm looking forward to coming in and contributing in whatever manner I can."
-- Evan Brunell
For more baseball news, rumors and analysis, follow @cbssportsmlb on Twitter or subscribe to the RSS feed.