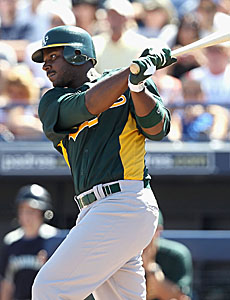 By Matt Snyder
Chris Carter
is not a small man. He stands at 6-foot-4 and checks in at 245 pounds.
His amount of power isn't small either. The potential big-time slugger went yard twice Monday, including a prodigious shot off the left-field scoreboard. It was the first time this spring we've seen a glimpse of the kind of power he possesses, but there's more where that came from.
In 465 Triple-A at-bats last season, Carter connected for 31 home runs and 29 doubles. Since being drafted out of high school, the 24-year-old has destroyed pitching at every level of the minors, compiling 149 homers in 673 games (which multiplies out to 36 per 162 games).
Minor issues would be Carter's batting average (.258 last season) and strikeouts (138 last season in 125 games), but he's patient enough to erase those concerns. He took 73 walks in 2010, meaning his .365 on-base percentage (worlds more important than average) was vrey respectable.
Basically, it's not a matter of if the A's are going to slot his bat in the middle of the order, but when. And, boy, do they need his pop.
The A's finished 81-81 last season, yet the only teams that hit less home runs were the punchless
Astros
and
Mariners
. Only four teams had a lower slugging percentage.
With some seemingly stop-gap options in the house this season, it appears the A's are ready to relegate Carter to the minors one more season. Josh Willingam (left field),
David DeJesus
(right field) and
Hideki Matsui
(designated hitter) have been brought in. Willingham and Matsui have some power, but their ceilings aren't near as high as Carter's. Plus, Carter has already paid his dues in the minors and shown what he can do in Triple-A. He did struggle in a late recall last season, but struggling in your first 70 major-league at-bats is hardly anything unique.
The feeling here is Carter should be allowed to start at least four times a week with the big-league club to see how he can handle the majors this time around. Six years in the minors is plenty of time and he could very well be ready. If he is, he could be the centerpiece that bats like Matsui, Willingham and DeJesus support -- as none of those guys are feared enough (at least not anymore in Matsui's case) to change the complexion of the lineup on their own.
Carter will be. And it might just begin in 2011.
For more baseball news, rumors and analysis, follow @cbssportsmlb on Twitter or subscribe to the RSS feed.