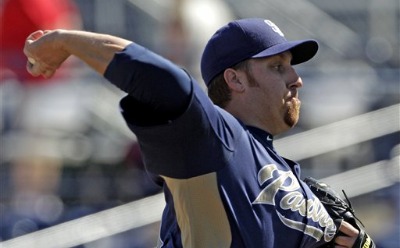 By Evan Brunell
3 UP
1. LF Alex Gordon, KC: 3 AB, 1 R, 3 H, 2 RBI. Gordon really needed this game, as a 3-for-3 night lifted his average to just .263. Already termed a bust, Gordon is likely on his final shot to contribute to the Royals. Heck, K.C. would take simply being an average contributor. In the same game, Lance Zawadski went 2 for 3 with 3 RBI and one run scored. He's a Triple-A player who got a cup of coffee with the Padres last season. Why is this mentioned? Because Zawadski was my double-play partner in high school. Rubbing shoulders with greatness, I am.
2. SP Javier Vazquez, FLA: 4 IP, 4 H, 1 ER, 0 BB, 3 K. Vazquez is looking to reclaim his status as one of the better pitchers in the game after his second turn as a Yankee was just as bad as his first. It's too early to speculate on his velocity, but the early results have to be promising for the Marlins who could be a sleeper in the NL East.
3. SP Derek Holland, TEX: 3 IP, 2 H, 0 R, 0 BB, 4 K. Holland certainly vaulted himself into being a favorite to win the No. 4 rotation spot in Texas with this outing. Reports had Holland looking electric, and he may be ready to fulfill his top prospect billing.
3 DOWN
1. SP Aaron Harang, SD: 3 IP, 7 H, 7 ER, 1 BB, 1 K. Yuck. Harang (pictured) got blasted against his former team who dressed just one projected starter in Brandon Phillips, making this outing all the more worse. Harang felt he was simply too nervous. "You kind of want to go out there and do well against your old team," Harang told the Associated Press. "I guess I look at it that it's better to get it out of the way down here than having it happen the first time throwing against them during the season." At least, Harang hopes that's the reason. The Padres, too.
2. SP Scott Kazmir, LAA: 3 IP, 5 H, 1 R, 0 ER, 4 BB, 1 K. "What's Kaz doing here if he didn't give up any earned runs?" you ask. Did you happen to notice he coughed up nine baserunners in three innings? Kazmir also contributed an error when attempting a pickoff. The Angels will be very impatient with Kazmir after being nothing but a bust since the trade with Tampa Bay. The lefty says he's close to a breakthrough after simplifying his delivery. For his sake, we hope so.
3. 1B Miguel Cabrera, DET: 3 AB, 1 R, 1 H, 2 K. Cabrera was in the news Wednesday for all the wrong reasons as details emerged about the night of Feb. 16, when it was exposed to the world that Miggy still had a drinking problem. It's been three weeks since the incident and Cabrera is apparently in the best shape of his life, but he's still hitting .174 on the spring. But remember: spring statistics aren't worth the pixels on the computer screen.
For more baseball news, rumors and analysis, follow @cbssportsmlb on Twitter or subscribe to the RSS feed.