What's better than a day at the ballpark? A day at the ballpark and free stuff.
I remember as a kid going to a Tidewater Tides (as the Norfolk Tides were called then) and getting a Tides batting glove. I wore that batting glove even though it was for my left hand and I was a left-handed hitter. I loved that thing, with the Tides logo and elastic wristband. Since then, I've loved ballpark giveaways (or SGA as you can find them on eBay) and have a collection of odds and ends such as an Endy Chavez bobblehead or a Macon
Braves
batting helmet (I only get them now as a paying fan, not as part of the job). As a proud owner of a Savannah Sand Gnats Gnic the Gnat bobblehead, I often check around to see what's being given away at ballparks around the country. So here it is, this week in free stuff, from the majors and minors. Keep in mind, this isn't a complete list, just the ones I find most interesting, and even if many think bobbleheads are passe, I'm still a big fan and you'll see most of them here.
Tonight, July 19
Chicago
Cubs
-- a Cubs mouse pad… if you still use one of those. Ask your parents, kids.
Johnson City
Cardinals
(Rookie Appalachian League) -- seat cushion. One of the more underrated and classic give-aways, you don't see them as much anymore, yet your butt could still use a cushion after nine innings.
Tuesday, July 20
Los Angeles
Dodgers
--
James Loney
bobblehead
New Hampshire Fisher Cats (Eastern League) --
Dustin Pedroia
bobblehead
Richmond Flying Squirrels (Southern League) -- logo ball. I'm not usually a big logo ball fan, but this logo is a flying squirrel.
Lakewood BlueClaws (South Atlantic League) -- paint your own Clawd bobblehead. Clawd is the team's mascot.
State College Spikes (New York-Penn League) -- eco-friendly cooler bag. I was at a
Marlins
game once and they gave out gas cans. I'm usually a big fan of practical give-aways, but I didn't take that one.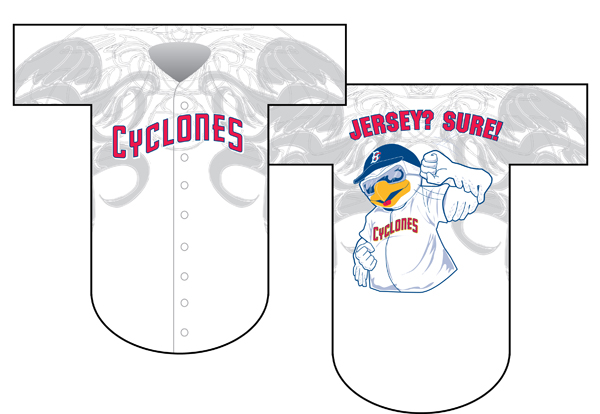 Wednesday, July 21
Baltimore
Orioles
-- foam finger. A classic. I'd love to see the foam finger make a comeback, even if a No. 1 is a little unrealistic for the Orioles.
Chicago Cubs -- key chain. This one is actually a nice, simple design, something that can often be done wrong and is done well here.
Brooklyn Cyclones (New York-Penn League) -- "Jersey? Sure!" Jersey. It's actually kinda great. The Cyclones are one of the minor league leaders in both quantity and quality of giveaways.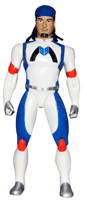 Thursday, July 22
Pittsburgh
Pirates
-- T-shirt. I don't normally get too excited by free t-shirts, but this one has a nice Pirate theme with a ship and all.
Los Angeles Dodgers --
Manny Ramirez
action figure. Action figures are this year's attempt at replacing bobbleheads. The Dodgers went the extra mile and made each of their three action figures as superheroes, but it still doesn't quite work.
Bowie BaySox (Eastern League) --
Nolan Reimold
bobblehead. The Orioles prospect is getting his own bobblehead.
Iowa Cubs (Pacific Coast League) --
Casey Blake
bobblehead. Blake is an Iowa native.
Portland Sea Dogs (Eastern League) --
Adrian Gonzalez
bobblehead.
Corpus Christi Hooks (Texas League) -- Aussie hat. Not bad for a day at the beach on North Padre Island.
Lakewood BlueClaws (South Atlantic Laegue) -- Dusty Wathan bobblehead. Wathan, son of former
Royals
manager John "Duke" Wathan, was the manager of the BlueClaws last season when the team won the South Atlantic League title and like most of his players, got called up. He's now the manager of the High-A Clearwater Threshers in the
Phillies
organization.
Great Lakes Loons (Midwest League) -- Bill Freehan bobblehead. The Loons are honoring Tiger legends with bobbleheads this season and Freehan is Michigan through-and-through. Freehan was born in Detroit, played football and baseball at the University of Michigan and then spent his entire 15-year career with the
Tigers
.
Orem Owlz (Frontier League) --
Torii Hunter
bobblehead.
Friday, July 23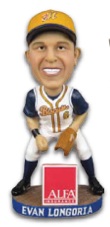 Baltimore Orioles -- tankard. More realistic than the foam finger, Orioles fans can drink away their problems in style.
Houston
Astros
-- gym bag. Again, one of the practical giveaways. I have a Braves bag I still use.
Montgomery Biscuits (Southern League) --
Evan Longoria
bobblehead.
Clearwater Threshers (Florida State League) -- Mike Schmidt bobblehead.
West Michigan Whitecaps (Midwest League) -- Larry Herndon bobblehead. It's a big week for former Tigers, apparently. Herndon caught the last out of the 1984 World Series.
Brooklyn Cyclones (New York-Penn League) -- Fireman Sandy bobblehead. A bobblehead of the mascot Sandy in a fireman's uniform.
Vermont Lake Monsters (New York-Penn League) -- Champ bobblehead. A friend of mine has a large collection of bobbleheads and says the mascot ones go for the most money on the secondary market.
Saturday, July 24
New York
Yankees
-- lunch box. I love the metal lunch boxes, they're a popular giveaway -- and for good reason.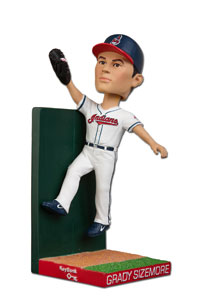 Cleveland
Indians
--
Grady Sizemore
bobblehead. One of the few chances to see Grady Sizemore in action at Progressive Field.
Houston Astros -- rainbow sleeve t-shirt.
Milwaukee
Brewers
-- grill master apron.
Las Vegas 51s (Pacific Coast League) -- wall clock.
Inland Empire 66ers (California League) -- James Loney bobblehead.
Visalia Rawhide (California League) -- beach blanket.
Kinston Indians (Carolina League) -- Lonnie Chisenhall bobblehead. The Indians prospect is nearly ready for the big leagues and he already has a bobblehead.
Hagerstown Suns (South Atlantic League) -- Little Heiskell bobblehead. Little Heiskell is a German soldier weathervane figure that has become a symbol of the city.
Rome Braves (South Atlantic League) --
Tommy Hanson
bobblehead.
West Michigan Whitecaps (Midwest League) -- glow-in-the-dark baseball.
State College Spikes (New York-Penn League) -- kids fielding glove giveaway. As a kid, these always kinda bummed me out, because it's not like they have a left-handed option. Sure, they're never good enough to actually use, but that's little consolation to a sad little left-handed kid.
Everett AquaSox (Northwest League) -- fleece blanket. One of my favorites, although many teams are moving toward Snuggie-like blankets instead of the usual throw.
Sunday, July 25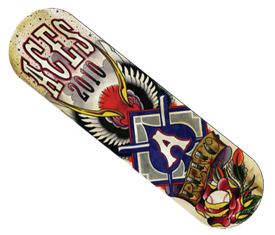 Philadelphia Phillies --
Chase Utley
action figure. Like the real Utley, this one no longer has a cast on his hand.
Milwaukee Brewers -- Robin Yount bobblehead. Not only is Yount wearing a great old Brewers uniform, the Yountstache is in full effect.
Albuquerque Isotopes (Pacific Coast League) -- Orbit bobblehead. Another great mascot bobblehead. Most minor league mascots are better in bobblehead form than mascot form.
Reno Aces (Pacific Coast League) -- skateboard deck. Another new one this season, the Aces deck is one of the best.
New Britain Rock Cats (Eastern League) -- paint your own bobblehead.
Greensboro Grasshoppers (South Atlantic League) --
Chris Coghlan
figurine.
Bowling Green Hot Rods (Midwest League) -- lunch box.
Lake County Captains (Midwest League) -- Skipper leg lamp bobblehead. It's the leg of the mascot, Skipper, and it's a leg lamp, just like Cleveland's own A Christmas Story.
Lowell Spinners (New York-Penn League) -- Allie Gator bobblehead.
-- C. Trent Rosecrans
For more baseball news, rumors and analysis, follow @cbssportsmlb on Twitter.