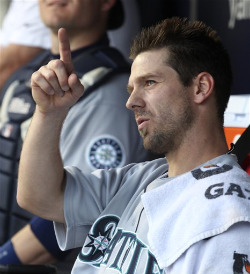 Lots of things flying around about
Cliff Lee
, but the big news is that CBSSports.com's Scott Miller
is hearing that
the
Yankees
deal is not done and others, including the
Rangers
, are in the mix.
A
Mariners
front-office source tells me the team is "preparing for anything," waiting for general manager Jack Zduriencik to give them the word on what, if anything, is going down. There are a number of scenarios:
* No deal is finalized and Lee pitches, as scheduled, against the Yankees on Friday night at Safeco Field.
* Lee goes to the Yankees and pitches
against
the Mariners instead. I'm hearing that's unlikely, and that the Mariners would make that a condition of the deal just for the sake of logistics and the circus it would create. But the Yankees are in Seattle through the weekend, and Lee needs to pitch again before the All-Star Game. Once he's property of the Yankees, the Mariners can't really keep them from starting Lee against them Saturday or Sunday. They could just let him throw a bulpen session, but they'd probably like to start getting a return on their investment without waiting until after the break.
* No deal is finalized with anyone, and Lee doesn't pitch at all Friday night because he's being sort of held in escrow until a transaction. That's a strong possibility. Contrary to a report earlier, however, the Triple-A Tacoma Rainiers are still listing standout prospect Michael Pineda as their starter for Friday night. That can of course always change in a hurry, which is one of the advantages of having your Triple-A club less than an hour away.
MLB Facts and Rumors will be at Safeco Field throughout the weekend, so check here for unfolding news on the Lee situation.