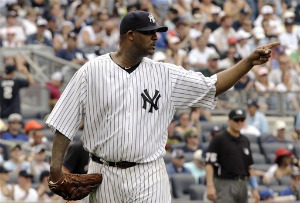 One fan said on a Seattle radio show Friday that
Cliff Lee
was basically flying cross-country to New York with a three-month layover at D/FW.
Yankees
pitcher C.C. Sabathia, a friend of Lee's, agrees: Lee's trade to the
Rangers
doesn't mean he won't be a Yankee, it just means he has to wait until after the season to do it as a free agent.
"I don't think we have to do much recruiting,"
Sabathia said.
"He knows what it's like over here. I've talked to him a bunch about being in the clubhouse and being part of the team. Hopefully it works out."
Sabathia, who played with Lee in Cleveland, said his wife and Lee's even went so far as to discuss where they might live in the New York area.
"We were pretty excited," Sabathia said. "Hopefully we'll get him next year."
-- David Andriesen


For more baseball news, rumors and analysis, follow @cbssportsmlb on Twitter.