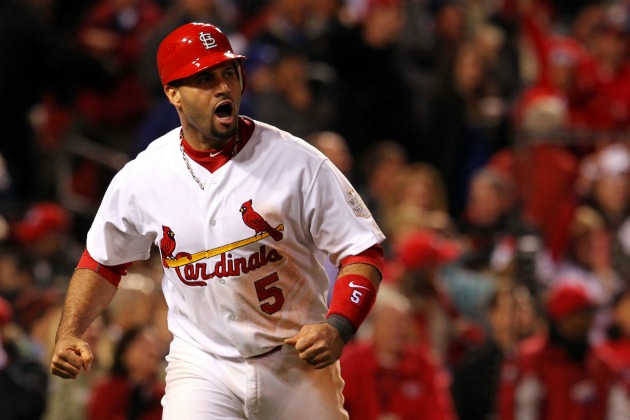 By C. Trent Rosecrans
The Marlins' offer to Albert Pujols is "believed" to be for nine years, Tim Brown of Yahoo Sports reports. However, Brown doesn't have any firm numbers on the money involved, only speculating that it could be worth as much as $225 million. The Palm Beach Post reports the offer is worth less than $200 million.
If that is indeed the case, the Marlins' offer would be more than what the Cardinals have been believed to offer, a nine-year deal worth between $190- $210 million offered in spring training, and could make the bidding for the three-time MVP even more interesting.
Conventional wisdom has been that the Cardinals would win any tie in contract talks, but the Cardinals won't get any substantial "hometown discount." Jerry Crasnick of ESPN.com reports the Cardinals never offered more than $200 million, and being on the right side of that line could make a huge difference.
It could also be a bit of interesting timing that this higher offer is before the Cardinals are expected to meet with Pujols' agent, Dan Lozano, this week, according to Crasnick. The Marlins would have to at least match the years the Cardinals are offering for Pujols, but it seems with offers out to Jose Reyes and Mark Buehrle, the Marlins are looking to spend beyond not just their means, but anyone's means outside the Yankees and Red Sox.
As great as Pujols is -- and make no mistake, he's one o the best players in baseball history -- he may mean more to the Cardinals than any other team, considering his stature in St. Louis and part of two World Series titles in the last decade. Pujols has never played for another organization and is an icon in baseball-mad St. Louis.
"I don't think we need to divorce ourselves from that," Mozeliak told Crasnick. "The fact is, he's an iconic player. He's been the face of this organization for a long time. To deny that or fail to recognize it, I just don't think you're looking at it through the proper set of lenses."
Those lenses could end up costing the Cardinals in the long run -- a nine-year deal means they'll be paying a 40-year-old Pujols quite a bit of money in the last year of the deal, 2020. The Cardinals, perhaps, can deal with that kind of salary for the other benefits, but can anyone else? The South Florida market is notoriously front-running and fickle, unless the new ballpark turns the Marlins into the Yankees, how much business sense does it make for Miami to tie themselves to an aging great, no matter how great?
For more baseball news, rumors and analysis, follow @eyeonbaseball on Twitter or subscribe to the RSS feed.