By C. Trent Rosecrans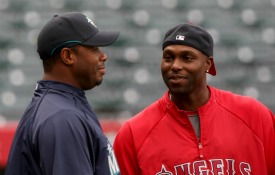 I don't know what's more interesting, that Torii Hunter has a son that goes by the nickname "Money" or that his three sons are being recruited by some of the nation's top football programs.
TexAgs.com has this interview with the three Hunter boys -- Torii Jr., Darius and Money at Texas A&M's passing camp. All three say they've heard from Texas A&M and other schools, with Torii Jr. favoring Arkansas, Darius Oregon and Money hoping to play at Texas A&M. Both Torii Jr. and Money say they still play baseball, while Darius has given up baseball to focus on football and track. All three are entering their junior year at Prosper High School in Prosper, Texas, and play receiver. Torii Jr. also plays cornerback and Money plays strong safety. None of the three wear their dad's No. 48, but do wear numbers ending in 8 -- 8, 18 and 88, respectively.
The Hunter brothers would join some more notable sons of big leaguers who are playing other sports. Ken Griffey Jr.'s son, Trey, has been offered a football scholarship at Michigan State and is drawing interest from other schools such as Cincinnati, South Florida and Washington State. He's a wide receiver at Dr. Phillips High School in Florida. His sister, Taryn, led her high school team to a state tittle as a freshman, scoring 19 points in the championship game.
Shane Larkin, son of Griffey's teammate Barry Larkin, will be playing basketball for DePaul this season.
Jeff Petry, son of former big league pitcher Dan Petry, is currently in the NHL with the Edmonton Oilers.
There are plenty of sons of baseball players in the majors and minors, as well, including Prince Fielder, Delino Deshields Jr. and John Mayberry Jr.
For more baseball news, rumors and analysis, follow @cbssportsmlb on Twitter or subscribe to the RSS feed.