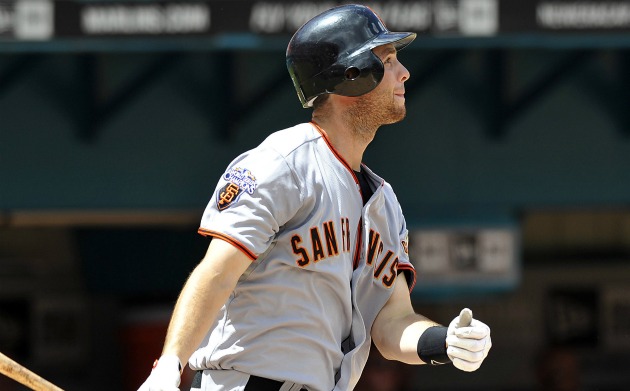 By Evan Brunell

Jack McKeon, Marlins:
Giants
first baseman
Brandon Belt
showed the Giants (and opponent Florida) that if
Aubrey Huff
's recent resurgence isn't for real, the Giants will be just fine. Belt... well, "belted" two solo home runs on Sunday to pace San Francisco over the Marlins.
Ryan Vogelsong
won his 10th, trimming his ERA to 2.47. But neither of them get the prize -- that goes to Marlins manager Jack McKeon, who told the Associated Press that there was no bad blood between the two teams as a result of the
Buster Posey
broken leg suffered at the hands of
Scott Cousins
earlier in the year. "Guys get carried away," McKeon said. "Vogel ... Volkswagen ... whatever his name is -- he's lucky he didn't have to face Drysdale or Gibson or one of those guys. You would get a shave and a haircut real quick."
Brett Lawrie, Blue Jays:
Boy, is Toronto sure glad it finally called up Brett Lawrie. The rookie has been hot so far in his early career, and delivered a game-tying double in the ninth inning that the Blue Jays would go on to win the next inning. It was his only hit in four trips to the plate, but Lawrie's already shown a knack for getting pivotal hits and is hitting .355 on the year. He's rallied the troops by wearing his heart on his sleeve and is quickly becoming a fan favorite.
Nick Markakis, Orioles:
Markakis has been a major disappointment not just this season, but for a few years now. Markakis followed up two strong years with his best season yet in 2008 as a 24-year-old, raking 48 doubles and 20 home runs with a .306/.406/.491 mark, but he tumbled off by close to 100 points in OPS over the next two seasons. This year's been even worse, as he came into Sunday's game against Detroit with a .280/.333/.391 mark. He exacted some measure of help Sunday by going 3 for 5 with a home run, two runs scored and four RBI. It's something.
---
Jason Marquis, Diamondbacks:
Marquis' first two starts for the Diamondbacks didn't go too well, giving up eight runs (seven earned) in four innings two starts ago, following that up with another four-inning stint, coughing up seven runs (four earned). That made Sunday promising, as Marquis had given up one run through 3 1/3, but a line drive off his shin the inning previous flared up all of a sudden and he tumbled to the ground in a heap -- as did batter
Josh Thole
, who was plunked by Marquis' errant pitch when he took a dive. The diagnosis? Broken shin. Ouch.
Jordan Lyles, Astros:
Lyles had a tough opponent in
Hiroki Kuroda
, who hurled seven scoreless, but Lyles didn't help matters by blowing up for seven runs in 5 1/3 innings. It's the second straight time that Lyles has given up seven runs, and he drops to an unsightly 1-7 on the year and his career. His 5.32 ERA belies a pitcher that might need some more seasoning in the minors, but he's also just 20, and there's plenty better things on the horizon for the right-hander.
Jeff Francis, Royals:
Leading up to the trade deadline, Francis was looking like a nice left-hander to slot in the middle of the rotation, especially in the NL. Alas, since then he's been anything but and turned in a six-run outing in just 3 2/3 innings, balls rifling all over the park with 10 hits. Francis also walked two and struck out just one in what was just an overall bad day at the park. His ERA is all the way up to 4.76 now and that luster? It's gone.
For more baseball news, rumors and analysis, follow @EyeonBaseball on Twitter or subscribe to the RSS feed.