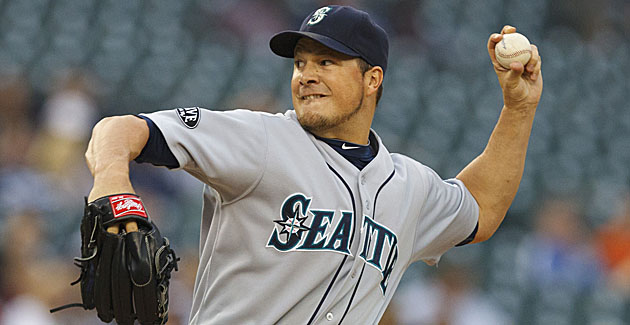 By Matt Snyder
Good news is hard to come by when a team has lost 16 games in a row, but the
Mariners
at least received marginally good news Monday. Left-handed starting pitcher
Erik Bedard
will return to the mound Friday (
MLB.com
).
On the surface, it's kind of a "who cares?" type movement. The Mariners are 15 1/2 games out and obviously will not factor into the AL West race. It's just that there's something else rapidly approaching, and that is the non-waiver trade deadline. Bedard is 32, on a one-year contract and has been effective when healthy this season (3.00 ERA, 1.11 WHIP, 85 strikeouts, 26 walks in 90 innings).
With the deadline Sunday at 4:00 p.m. ET, Bedard's start coming Friday, several contending teams looking for starting pitching, a lack of quality starting pitchers readily available and the Mariners obviously in selling mode, Bedard coming off the disabled list couldn't come at a much better time for all parties involved. As long as he gets through the start healthy, expect to hear his name in rumors this coming weekend.
HOW TRADES HAPPEN:
Former
Reds
and
Nationals
general manager Jim Bowden now writes for ESPN, and
he has an article up about how trades happen
. It's nothing really Earth-shattering, in fact it might seem a bit obvious, but it's still a detailed look about the methodology of going through a major-league trade from someone who has made several in his time.
BUCHHOLZ PROGRESSING:
The
Red Sox
have the best record in the American League, and they've been doing it of late with a patchwork pitching rotation.
Jon Lester
returned Monday night and now
Clay Buchholz
is making solid progress in his fight to return from a back injury. Monday, he estimated that he's "75 to 80 percent" healthy after throwing a bullpen session, including breaking pitches (
Boston.com
).
LACK OF SECURITY:
Last week, a fan ran onto Citi Field during a
Mets
-Cardinals game. Usually when these clowns run on the field, they're stymied by security pretty quickly. Not this time, as the fan took security for quite a ride.
Jon Bois over at SB Nation has the details along with video and a map
.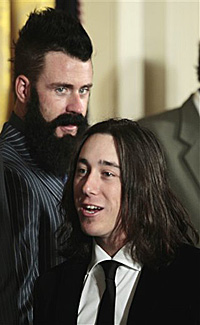 WHITE HOUSE INVASION:
The
Giants
won the World Series last year with a group of colorful personalities. That group was back together Monday as the champs visited President Obama in the White House. The Giants went through the usual song and dance, glad-handing with the President, giving him some gifts and posing for plenty of pictures. Perhaps the best part of the whole visit was the presentation. You wouldn't expect personalities like
Tim Lincecum
or
Brian Wilson
to dial anything down for the visit -- like a haircut or shave, perhaps -- and they didn't disappoint. Check out the photo at right here, courtesy of the Associated Press.
SEVEN DOWN, TWO TO GO:
Michael Cuddyer
went into Monday night's game having played six positions for the
Twins
: First base, second base, third base, left field, right field and center field. After manager Ron Gardenhire saw his pitching staff bludgeoned for 25 hits and 20 runs in seven innings against the
Rangers
, he turned to Cuddyer for the eighth. Cuddyer ended up throwing the only scoreless frame of the game for the Twins. Sure, he gave up two hits and a walk, but he got through it without allowing a run (
3 Up, 3 Down
). No other pitcher for the Twins Monday could say the same --
Phil Dumatrait
had a line with zero earned runs, but did allow two inherited runners to score. So now the only two positions Cuddyer has never played in a game for the Twins are shortstop and catcher. He has appeared as a DH before, so if you want to count that, he's eight for 10.
A-ROD ON TARGET:
Yankees
injured third baseman
Alex Rodriguez
had surgery to repair a torn meniscus in his right knee on July 11 and was given a four to six weeks timetable for his return. As things presently stand, everything is in order and the Yankees expect him back by mid-August (
MLB.com
).
WALLACE'S TIME LIMITED:
Brett Wallace
got off to a hot start for the
Astros
this season. It wasn't just a few games. Through April 30, Wallace was hitting .388 with a .988 OPS. Since then, however, both figures have pretty progressively come down to the current marks of .279 and .749, respectively. Manager Brad Mills has reportedly tried to balance protecting Wallace against left-handers versus trying to develop the young first baseman. Mills is now leaning toward sitting Wallace more often against left-handers (
Ultimate Astros
).
BALL-HAWKIN':
Highly-touted
Angels
rookie
Mike Trout
hit his first major-league home run Sunday, and it was caught by famous ball hawk Zack Hample -- who has caught over 5,000 balls at major-league games and written three books on the subject. The
OC Register has the story
about how Hample planned to catch Trout's first homer, how he made it happen and how he gave the ball back to Trout.
MORE DAY BASEBALL:
When the
Marlins
move into their new home next season -- hopefully to a lot more fanfare than they get in their current football stadium -- they'll be playing a lot more day games (
MLB.com
).
BROOKS WAS HERE:
The
Orioles
have begun building a statue to honor Hall of Fame third baseman Brooks Robinson at Camden Yards. The statue will be nine feet tall and weight 1,500 pounds. It's scheduled to be unveiled Oct. 21 of this year. Fittingly, the statue will depict the 16-time Gold Glover preparing to make a routine throw to first base (
Baltimore Sun
).
For more baseball news, rumors and analysis, follow @cbssportsmlb on Twitter or subscribe to the RSS feed.