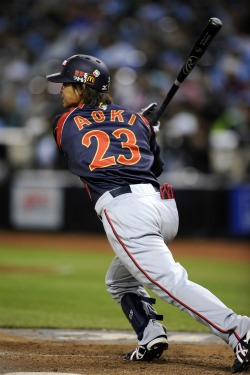 By C. Trent Rosecrans
The Yakult Swallows have accepted a $2.5 million posting fee for outfielder Norichika Aoki, the team announced at a press conference on Saturday. Which team bid the $2.5 million on Aoki is not yet known. Whichever team it is will have 30 days to negotiate with Aoki, who will turn 30 next month.
The three-time Central League batting champion hit just .292/.358/.360 in 2011, but was a career .336/.411/.472 in his first seven years. He is one of just four players to collect 200 hits in a season in Japan, joining Ichiro Suzuki, ALex Ramirez and Matt Murton.

"All I could do was wait, so I feel relieved now," Aoki said (via YakyuBaka.com). "I feel as if I am now one step closer to realizing my dream. I will allow my agent to handle the rest while I focus on my practices to make sure I am fully prepared."
Yahoo's Jeff Passan tweets Aoki at $2.5 million is a bargain, calling him "Ichiro Lite, emphasis on Lite."
Aoki is a left-handed hitter, throwing right-handed. He won three Gold Gloves earlier in his career, but his throwing arm could limit him to left field in MLB.
Aoki appeared for Japan in both World Baseball Classics, earning All-Tournament honors in 2009, when he played left and batted third for Japan.
The
Mets
,
Nationals
and A's have all been rumored to be interested in Aoki.
Check out the CBSSports.com Free Agent Tracker to see all of the off-season's movements

For more baseball news, rumors and analysis, follow @eyeonbaseball on Twitter or subscribe to the RSS feed.