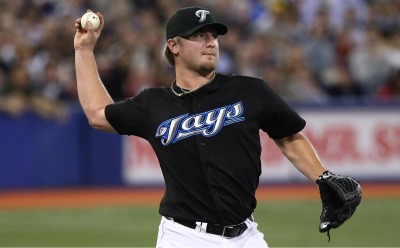 By Evan Brunell
GM Alex Anthopoulous and manager John Farrell took to the airwaves Wednesday morning to talk about all things Blue Jays. And there were plenty of topics covered.
Farrell, for his part, skirted around the issue of what the Blue Jays did in the past, always a difficult thing to do when you disagree with the philosophy but don't want to burn bridges.
"Planning against [the Blue Jays while with the Red Sox] felt like it was more of a one-dimensional approach," Farrell said according to Drunk Jays Fans (warning: some language). "Now, I'm not saying that's a wrong approach, but I just know that, going up against other teams, it was much more difficult to approach or plan for a team when they had the ability to attack you with different methods. To be more opportunistic is probably I'd best describe it.
"Again, I don't think it's a matter of saying what was done in the past was wrong," he added. "I just feel like -- put it this way, it would be, I think, more of a complete type of game, or a complete style of game, rather than just that one dimension."
It's in this vein that Farrell plans to let players loose on the basepaths more than previous seasons, as that's the quickest fix toward improving the team. Farrell would also undoubtedly like to diversify the offense at the plate beyond being home-run happy, but that will come in due time.
Anthopoulous then came on the airwaves to touch on multiple topics, two of the most compelling being the rotation and service-time manipulation.
The rotation is expected to have Ricky Romero and Brandon Morrow at the top, and AA isn't expecting issues from them. However, the pitchers set to round out the rotation -- or those still in contention for a spot -- do have specific aspects the GM needs to see improve.
With Jo-Jo Reyes, in the hunt for the last spot although he's likely to be moved to the bullpen, the lefty needs to stay down in the zone and deploy his secondary stuff effectively. Sounds obvious for pretty much any pitcher to succeed, but it's this aspect that tends to derail a lot of careers. It's not easy to do.
Kyle Drabek (pictured), who is expected to win a rotation spot, needs to be calm on the mound and (surprise), be down in the zone along with featuring his changeup. Meanwhile, Jesse Litsch needs to be able to throw strikes, which can be problematic coming back from Tommy John Surgery
Lastly, while Brett Lawrie has virtually no chance of making the club thanks to Juan Rivera blocking him, "there's a reason he's still here," Anthopoulous said. "He's probably better than we had hoped for at this stage."
That turned to a discussion on service-time manipulation, which is always a factor with rookies and came into play last year with Buster Posey. He believes service time can be folded into the club's goal of doing certain things better than the competition, similar to Tampa Bay's chase for the extra two percent. That includes how players are treated along with what travel, the clubhouse and other factors are like, and service-time manipulation falls into that category, as players know when they aren't being "treated the right way."
For more baseball news, rumors and analysis, follow @cbssportsmlb on Twitter or subscribe to the RSS feed.