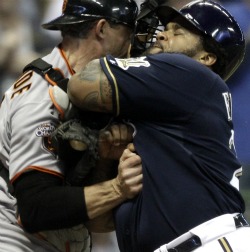 By C. Trent Rosecrans
I swear I didn't want to write another word about Buster Posey -- but, it just keeps coming up. His replacement, Eli Whiteside, didn't let the the injury keep him from taking on a charging Prince Fielder.
Whiteside stood tall to one of the game's most formidable figures, despite Fielder's momentum and the knowledge of what had happened to his teammate. Cody Ross' throw home beat Fielder by a good margin, but the Brewers first baseman still tried to knock the ball out of Whiteside's glove.
Whiteside was knocked over, but able to hold onto the ball for the final out of the inning and walk away, as well. The play turned out to be the biggest of the game as Brian Wilson was able to come in and nail down his 14th save of the season in the ninth for a 5-4 Giants victory.
Fielder told the Associated Press he didn't have a choice but to try to bowl over Whiteside -- "You don't have any choice but to try and knock the ball loose."

Giants manager Bruce Bochy said Friday's play was different than the one that knocked Posey out.

"It's a little different," Bochy told the AP. "He had the ball, so he could set up a little bit. A catcher's got a better chance than when he's in the process of trying to catch a ball. That's when he's really vulnerable. Still, it's a big guy bearing down on you. 'Whitey' did a great job."

Whiteside said he was injured twice in similar collisions during his time in the minors, once suffering a concussion and a sprained ankle in the other incident. Still, his teammates said they knew the catcher wouldn't duck Fielder.

"He's coming at you," Whiteside told Andrew Baggarly of the San Jose Mercury News. "There's no rule in the book that says you can't take it to him."

That attitude didn't surprise his teammates.

"We all kid around and say that Whiteside is the last person you want to get upset," Cody Ross told Henry Schulman of the San Francisco Chronicle. "He's just a strong, big human being. He's the nicest guy in the world. You could tell that if he got upset he can do some damage."
For more baseball news, rumors and analysis, follow @cbssportsmlb on Twitter or subscribe to the RSS feed.