By C. Trent Rosecrans
3 UP
1. Kyle Lohse, Cardinals -- Lohse has been a weak, expensive link in the Cardinals' rotation the last two years, but is impressing this spring. On Monday, Lohse allowed just one hit over six innings against the Braves. This spring, he's allowed just two runs in 13 innings.
2. Matt Cain, Giants -- In his first start since the spring opener, Cain pitched three hitless innings against the Brewers on Monday. Cain hadn't pitched since Feb. 27 because of inflammation in his right elbow.
3. Felix Pie, Orioles -- The outfielder had a hit in four at-bats Wednesday, but he's here because it was his day, Pi Day (3.14). Sure, it's a stretch, but it's just spring training.
3 DOWN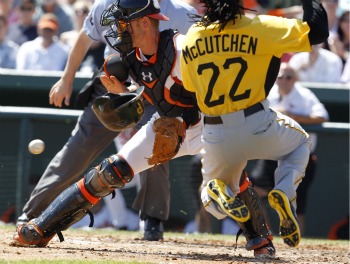 1. Andrew McCutchen, Pirates -- Not only did McCutchen lose his glove trying to catch a home run by Baltimore's Randy Winn, in the same inning he was thrown out at the plate and complained that Orioles catcher Matt Wieters didn't avoid contact as much as he should in spring training (pictured).
2. Bruce Chen, Blake Wood, Jason Kendall, Royals -- One of the best days of spring is the one scheduled off day. For players (and reporters) the one day without a game in March is the prize of six weeks in Arizona and Florida, who go without a day to themselves from the middle of February until April. The Royals trio all had to show up to work on Monday, Chen and Wood worked in a minor-league intrasquad game, while Kendall continued his rehab from shoulder surgery.
3. Chris Sale, White Sox -- The 21-year-old lefty was good last season after being called up at the end of the year, but has struggled this spring. Chicago's first-round pick in the 2010 draft allowed three runs in the fifth inning of Monday's game against the Padres. He has a 7.36 ERA in five appearances this spring.
For more baseball news, rumors and analysis, follow @cbssportsmlb on Twitter or subscribe to the RSS feed.