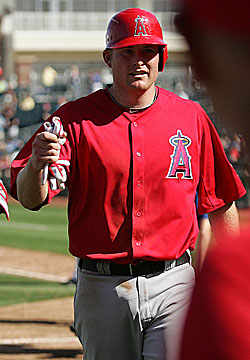 By Matt Snyder
Get the lame nickname people ready, because this dude's last name rhymes with a certain floppy-eared elephant from a Disney classic.
3 UP
Mark Trumbo
,
Angels
. The 25-year-old slugger has been on fire this spring and Friday was no different. Trumbo doubled, homered, drove home four runs and scored two. He's now hitting .389 this spring with four home runs and 11 RBI. He's currently stuck behind Kendrys Morales (1B) and
Bobby Abreu
(DH) on the depth chart for the major-league roster, but at some point the team can't leave him behind. He's already torn Triple-A pitching to shreds (36 HR, 122 RBI, .945 OPS last year in 139 games). He's hit at every level, so maybe it's time he gets a shot in the majors -- lest he become another
Brandon Wood
.
Carlos Pena
,
Cubs
. He entered Friday just 2-17 with nary an extra-base hit, but a home run and RBI single likely took a bit of mental weight off the free agent signee's shoulders.
Jeremy Hellickson
,
Rays
. The 23-year-old phenom hadn't yet pitched this spring, as he's been hampered with hamstring tightness. No matter, his first outing was spotless. Just a simple perfect inning, and he struck one batter out.
3 DOWN
Jonathan Papelbon
,
Red Sox
. Pretty solid meltdown for Paps, actually. He only got one out, but he walked three guys, hit one and allowed a hit. Before the book was closed, after his departure, three earned runs would be the final tally. Don't read anything into it. It's not uncommon for a guy to have poor command on March 11 and still be perfectly fine a month from now.
Gio Gonzalez
, A's. Man, what a bum (please note sarcasm). Gonzalez hadn't yet allowed a run this spring. In fact, he hadn't even allowed a hit. So the outing Friday -- when he gave up four hits and one run -- may have looked poor by comparison, the conclusion is still a positive one.
Michael Pineda
,
Mariners
. Man, what a bum, Part II. The burly Mariners prospect (he is 6-foot-7, 260 pounds) had not allowed a run through four spring innings prior to Friday. He gave up four hits and two runs in three innings to the
Indians
. But, like Gonzalez, the whole picture of his spring is a good one. He's still sporting a 2.57 ERA and opponents are only hitting .192 against him.
So, yeah, we picked two in "3 DOWN" that could have been positive ones. That's how we're deciding to roll today. Hey, it's Friday night.
For more baseball news, rumors and analysis, follow @cbssportsmlb on Twitter or subscribe to the RSS feed.