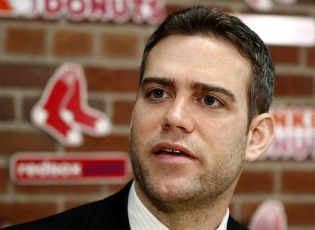 By Evan Brunell
With the World Series beginning, it looks as if the expected move of Theo Epstein becoming president of the Chicago
Cubs
will have to wait.
Commissioner Bud Selig does not like teams making announcements during the World Series, as it takes away from the focus on the Fall Classic. This was violated once before when
Alex Rodriguez
announced he was opting out of his contract with the
Yankees
during the 2004 World Series, causing tremendous backlash. You won't see the news of Epstein joining the Cubs happening until at least Friday, the first scheduled off-day of the World Series -- and perhaps not until the World Series ends entirely. Selig would have to allow the announcement on an off-day.
Holding up talks to put Epstein in Chicago is the price of compensation heading back to Boston for releasing Epstein from his contract, which has a year left remaining. Talks, by all indication, are cordial and progressing, but is slow-going because Boston is asking a high price, while Chicago is understandably trying to hang onto its most valuable assets. The latest rumor
connected prospect Trey McNutt
with the
Red Sox
. The righty pitched on Wednesday in the Arizona Fall League, a league that starts up in October and allows top prospects to play against each other. He lasted just 1 2/3 innings for the Mesa Sola Sox, giving up two earned runs on five hits and one walk, striking out just one. An additional two unearned runs scored off of McNutt.
In the meantime, Epstein is effectively functioning as Cubs GM despite being the official Red Sox GM, while lieutenant Ben Cherington has assumed the ropes in Boston and will be formally named Epstein's replacement once the boy wonder departs to Chicago. Part of the issue in discussions is which front-office people Epstein can take with him to Chicago. It's unclear who is going, but one name has surfaced in talks,
ESPN Boston writes
. That would be executive vice-president of business affairs, Jonathan Gilula. Gilula played a major part in the renovations at Fenway Park, and Epstein may be eyeing him to give a similar facelift to Wrigley Field. A source added that trainer Mike Reinold may also follow Epstein, but department heads on the baseball operations side will not leave. Epstein also may target
Padres
GM
Jed Hoyer for a similar role
in Chicago, or tap Hoyer's lieutenant, Josh Byrnes for the role. Both served under Epstein in Boston.
Catch up on all the Theo Epstein to Cubs madness here.
For more baseball news, rumors and analysis, follow @EyeonBaseball on Twitter or subscribe to the RSS feed.