By C. Trent Rosecrans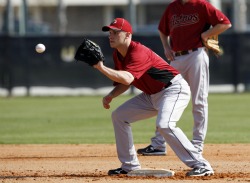 If Wally Pipp had lost his spot because he slipped carrying Bambi's mom, he'd be Clint Barmes.
Barmes looked like he'd be the 2005 Rookie of the Year when Todd Helton gave him a gift of deer meat. Carrying the meat up to his apartment, he slipped and broke his left collarbone. In 86 games before the meat incident, Barmes was hitting .318 and in the 579 since, he's hit .244. He lost his swing, struggled in 2006 and was replaced by Troy Tulowitzki in 2007.
"It's one of those things where everybody is like, 'What would have happened if I didn't get hurt?'" Barmes told Steve Campbell of the Houston Chronicle. "I've thought about that. I'm not going to lie."
Many have. Barmes has gone from an emerging star to expendable. The Rockies traded him to the Astros for pitcher Felipe Paulino last November. Barmes is now getting a chance to be the Astros' everyday shortstop.
"I feel like I'm kind of starting over again," Barmes said. "That makes it exciting. I've got expectations for myself. The club has expectations for me. The biggest thing is they're going to let me go out and play, do what I do. It's on me to go out and produce."
For more baseball news, rumors and analysis, follow @cbssportsmlb on Twitter or subscribe to the RSS feed.