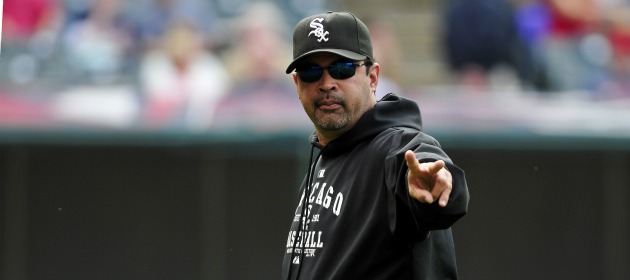 By Evan Brunell

Ozzie Guillen is expected to become the
Marlins
' new manager in exchange for infielder Osvaldo Martinez (
MLB.com
) and minor-leaguer Jahn Marinez (
Chicago Tribune
). To that end,
Guillen tweeted
Tuesday afternoon that it was "Weird to be in miami in this time but very happy ready to go."
Guillen was let out of his contract after Monday night's game, capping an end to a tumultuous career as White Sox skipper. Winning the World Series in 2005, Chicago collapsed in 2011 amid high expectations. Guillen's relationship with GM Kenny Williams was by all accounts poisonous, leading to the parting. While Guillen was technically let out of his contract and free to negotiate with any team, the club had arranged a deal with the Marlins should Florida elect to make Guillen its new skipper, which is now clear will come to pass.
It's likely that Guillen will be introduced to the media after Wednesday's season finale for the Marlins, providing a bolt of news for a team that goes into a pivotal offseason with a new stadium, a name change (Florida to Miami) and new logos and uniforms. Guillen himself posted an article Monday night about becoming the Marlins' new manager before it was taken down, the Associated Press reported.
"The post quoted Guillen as saying he was thrilled to join the Marlins and couldn't wait to get started," the AP wrote. "The post went up Monday night, then was removed a short time later and
replaced by a blog
that discussed Guillen's departure from the Chicago White Sox while making no mention of the Marlins."
Only last year, it was rumored that Chicago wanted left fielder
Logan Morrison
in exchange for Guillen when the Marlins inquired as to the skipper's availability. That was a steep price to pay and its no wonder Florida passed, but the price dropped significantly once Guillen's future in Chicago was settled. Martinez, 23, is a solid defender but struggles with the bat. He's amassed a handful of at-bats each of the last two years, totaling 71 plate appearances with a .258/.300/.348 line. In Triple-A, he hit just .245/.296/.322 in 371 PA. Martinez figures to serve as a defensive replacement off the bench for the White Sox and could replace
Omar Vizquel
if the ageless infielder moves on.
Marinez had a 3.57 ERA for Double-A this season, striking out 11.5 per nine innings in 58 innings while also walking 6.5. If he can tighten up his command, he has the power potential to eventually become a top setup man or closer.
It's not yet known who the minor-leaguer is and that will truly determine the value of this deal. But already, both Florida and Chicago have won. The White Sox end the constant soap opera, while the Marlins finally get their man to lead the team into what they hope is a new beginning.
For more baseball news, rumors and analysis, follow @EyeonBaseball on Twitter or subscribe to the RSS feed.