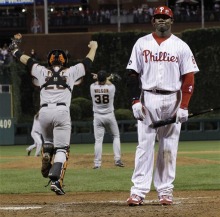 The great Baseball Reference blog strikes again. This time, looking at something both
Ryan Howard
and
Alex Rodriguez
did this postseason --
ending their team's postseason by looking at a called third strike
. On Friday Rodriguez became the ninth player in history to do so, and the next night Howard became the 10th.
Here's a look at the rest, which has seen nine of its 10 members join the club in the last 31 years.
Ryan Howard, 2010 NLCS vs.
Brian Wilson
Alex Rodriguez, 2010 ALCS vs.
Neftali Feliz
Carlos Beltran
, 2006 NLCS vs.
Adam Wainwright
Terrence Long, 2003 ALDS vs.
Derek Lowe
Roberto Alomar, 1997 ALCS vs. Jose Mesa
Omar Vizquel
, 1996 ALDS vs. Randy Myers
Howard Johnson, 1988 NLCS vs. Orel Hershiser
Willie Randolph, 1980 ALCS vs. Dan Quisenberry
Cesar Geronimo, 1979 NLCS vs. Bert Blyleven
Goose Goslin, 1925 World Series vs. Red Oldham
It's no surprise with more playoff series, it's become more uncommon. What's interesting, to me at least, is that only one World Series has ended on a called third strike -- 1925, when Washington's Goslin looked at third strike to give Pittsburgh the title. A total of 16 World Series have ended on strikeouts, but with two strikes and the season coming down to one pitch, most will get the bat off their shoulder and at least try to put the ball in play.
-- C. Trent Rosecrans
For more baseball news, rumors and analysis, follow @cbssportsmlb on Twitter or subscribe to the RSS feed.