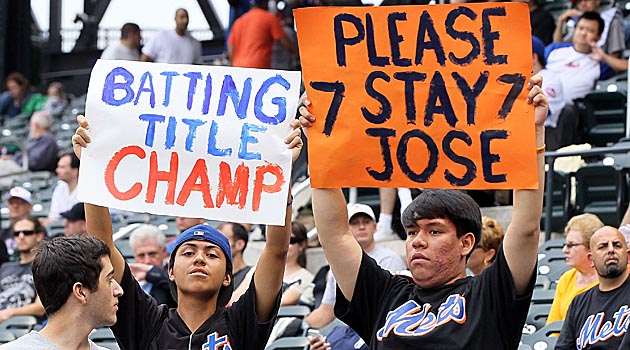 By Matt Snyder
The theme here is high-risk, high-reward guys, at least toward the top. In the top two (and I'd include number four as well) teams are possibly looking at All-Star seasons or an albatross contract down the road, depending on how things shake out with health and the aging process. The entire list here contains gambles, but you know what? Sometimes in gambling you win.
List of MLB free agents

1. Jose Reyes.
The 28 year old has now been an All-Star four times. He's led the majors in triples four times and the NL in steals three times. He upped his on-base percentage to .384 (nearly 30 points higher than his previous career high) in 2011 while winning the NL batting title. Had he not injured his hamstring twice, he may have been an MVP candidate. Of course, therein lies the issue. From 2005-08, Reyes was very durable. Since then, he's been unable to shake injuries. Someone is going to give him a big contract, there's little question about that. If Reyes can stay healthy, he'll be worth every dime. If he can't, the contract could end up handcuffing a franchise.
Potential teams:
Mets
,
Tigers
(shifting
Jhonny Peralta
to third),
Giants
,
Nationals
,
Phillies
,
Brewers
,
Mariners

2. Jimmy Rollins.
He turns 33 in a month and is actually coming off his best season since 2008. He can still steal bases, can still hit for moderate power and play good defense. He's just not a star anymore, and Rollins seems to be seeking a star-like contract. The hunch is some team that misses out on Reyes gives Rollins three to four years and regrets the deal by the third season, but it's possible he could be a good signing.
Potential teams:
Same as Reyes, Rollins is just the second option.

3. Marco Scutaro.
He'll be 36 in less than a week, but he should have enough left in the tank to be a meaningful starter for the next two seasons. He had a .358 OBP in a tough division, so Scutaro could prove a good option for some ballclub that isn't capable of spending big money to fill a hole at short. Of course, they probably won't have a chance, because the
Red Sox
are expected to pick up Scutaro's option.
Potential teams:
Red Sox

4. Rafael Furcal.
It seems like Furcal has been around forever, and that's because he was a rookie at the ripe young age of 22. He's 34 now and certainly has lost some speed and power. Plus, he has only been healthy enough to play at least 100 games once in the past four seasons. Furcal has played better since joining the
Cardinals
, but he still hasn't shown enough to be considered a big name on the free agency market. He has said publicly he wants to remain in St. Louis and a one-year deal there is a distinct possibility.
Potential teams:
Cardinals,
Twins
,
Reds
, Giants, Brewers, Mariners, Phillies

5. Clint Barmes.
Barmes had a decent 2011 season for the
Astros
, shifting back to being an everyday shortstop -- the position he lost to
Troy Tulowitzki
in Colorado. He'll be very affordable and the Astros may let him walk, considering that's very little chance for them to compete in the next two seasons. It makes Barmes a nice, cheap option for teams strapped for cash.
Potential teams:
Twins, Reds,
Braves
,
Pirates
, Giants

6. Willie Bloomquist.
The
Diamondbacks
will be getting
Stephen Drew
back from injury, but Bloomquist still has value to the franchise as a sort of supersub -- someone who can be plugged in as an injury replacement anywhere on the field (in 2010 he played every position except pitcher and catcher). The D-Backs are expected to pick up his option.
Potential teams:
Diamondbacks

7. Yuniesky Betancourt.
He has power, but his inability to get on base (.271 OBP in '11) and awful range at shortstop make Betancourt a liability most games. He did have a great offensive NLCS, so it's possible that lands him a few extra bucks on the open market. It's possible the Brewers pick up Betancourt's option if they can't get one of the above guys, but it's a $6 million option. That's hard to justify for a guy who can't get on base or field very well.
Potential teams:
Pirates, Astros, Brewers, Twins, Braves

8. Ronny Cedeno.
He's 29 and already shown his upside is severely limited. If the Pirates don't pick up his option, it's hard to see anyone signing him to come in and be the starter, at least not unchallenged.
Potential teams:
Astros? Otherwise he'll be a backup just about anywhere.

9. Alex Gonzalez.
The veteran will be 35 before next season starts, but he still has some pop. A team looking to bolster the offense's power could give him a one-year deal. There is talk the Braves will end up keeping him, so that bears watching.
Potential teams:
Braves, Twins, Giants, Mariners

10. Cesar Izturis.
He's only 31, but he's long since shown that he can't be a decent major-league hitter. He can help someone as a backup middle infielder that is only used as a defensive replacement, but his value is minimal. Look for teams with a good offensive shortstop that can't field to see Izturis as a late-innings defensive replacement -- but it can't be a star. Stars don't usually come out of the game.
Potential teams:
Blue Jays
, Braves,
Padres
,
Rays
, Nationals, Brewers, Retirement

11. John McDonald.
Very similar to Izturis in that McDonald can play defense but not hit. He's just depth.
Potential teams:
Diamondbacks, Blue Jays, Braves, Padres, Rays, Nationals, Brewers

12. Edgar Renteria.
Is there a place for an old backup who can barely hit or field anymore, but was once an All-Star and has a penchant for dramatic postseason hits? It's possible. Renteria could realistically be forced into retirement, but the guess is someone gives him a modest one-year deal.
Potential teams:
Brewers, Twins, Mariners, Astros, Pirates, Retirement

13. Felipe Lopez.
He's a headache off the field and has alienated himself from several ballclubs. He was an All-Star in 2005, when he hit 23 home runs and stole 11 bases, but Lopez hit just .206/.247/.277 in 2011 and he's north of 30 years old. If he gets a chance somewhere, it's gonna be on a minor-league deal.
Potential teams:
anyone other than the eight teams he's already played for ... or forced retirement.

14. Orlando Cabrera.
The soon-to-be 37 year old can't hit and his defense is drastically declining. With more and more teams ready to go young instead of wasting money on veterans, there is likely to be zero market for Cabrera's services early in the free agency period. It's possible when several of the names above fly off the board that some club grabs Cabrera on the cheap, but he also might end up like Jermaine Dye a few years ago ... just waiting on the right deal that never comes along.
Potential teams:
Marlins
? Mariners? Brewers? Retirement very possible.

15. Drew Sutton.
He hit .315/.362/.444 in 31 games for the Red Sox, but there is little chance of that keeping up in the long run. Sutton is probably more likely to land a job -- for different reasons -- than Cabrera (age), Lopez (personality) or Renteria (asking price), but it's hard to tell who is going to view him as the proper fit to back up their shortstop.
Potential teams:
Anyone and everyone.
Other free agents who could play shortstop:
Jamey Carroll
,
Jerry Hairston
,
Ramon Santiago
,
Jack Wilson
,
Nick Punto
,
Omar Vizquel
,
Craig Counsell
,
Alex Cora
For more baseball news, rumors and analysis, follow @EyeOnBaseball on Twitter or subscribe to the RSS feed.