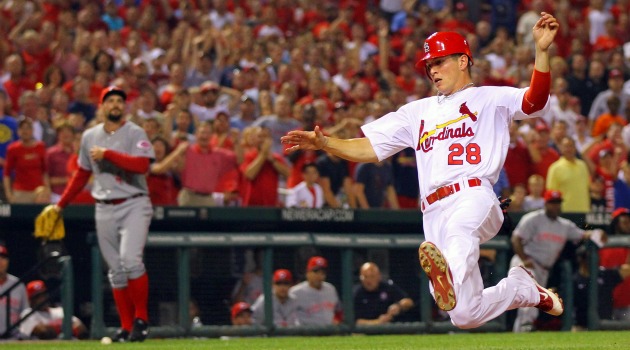 By Evan Brunell

This is the third season for
Colby Rasmus
, and yet he's well into his second year of trade rumors.
Last season, Rasmus reportedly requested a trade multiple times after clashing with manager Tony La Russa, but to no one's surprise the
Cardinals
retained the center fielder, whose burgeoning career sparked a .276/.361/.498 line last season. That painted Rasmus as a valuable commodity because of his league-minimum salary and talent at such a young age as he doesn't turn 25 until next month.
Despite that, however, trade rumors have continued to persist, and despite denials to the contrary, it's clear that the Cardinals both seriously considered moving Rasmus this season and are now closer than they've ever been to dealing the 2005 first-round selection given his slide back this year. He's currently struggling with a .246/.329/.413 line.
Part of his failings can be pointed to making contact with pitches outside the strike zone at a higher rate than before despite swinging at a similar percentage of these pitches. That means that Rasmus is making poorer contact, as it will always be difficult to get a good swing on a pitch that would be called a ball. That would explain why his groundball numbers are higher, coupled with a major jump in infield pop-ups.
On one hand, that does suggest that Rasmus can improve. All it would take is an adjustment to laying off these out-of-zone pitches more, but there could be other factors at work that aren't easily discerned by statistics that point to Rasmus not quite reaching superstardom that he appeared ticketed for. Plus, by all accounts, Rasmus is not popular in the clubhouse -- and wasn't right from the start. In a chat, Joe Strauss of the
St. Louis Post-Dispatch
says Rasmus "received a cold clubhouse reception when he arrived in 2009."
Strauss adds that "the club insists it's not shopping Rasmus but would listen to offers, as it would for any player not under a no-trade [clause]. Others familiar with the situation say that Raz is more 'live' than the club portrays, and that if he's not traded by Aug. 1 should be elsewhere before next season."
Later,
on Twitter
, he revealed that the
Rays
and Cardinals had extensive discussions about Rasmus last season. These talks could pick back up as Tampa Bay could be without a center fielder next season;
B.J. Upton
is expected to either be traded or leave as a free agent. Acquiring Rasmus would allow for a low-cost option to man center moving forward with quite a bit of upside. But just because Rasmus seems certain to leave doesn't mean St. Louis will give the left-hander away.
That's why they're "coveting" starting pitcher
Jeremy Hellickson
, who would be a fantastic young pitcher to pair with
Jaime Garcia
and could allow the club to let
Chris Carpenter
walk after the season. Of course, Tampa Bay subscribes to the same reasons St. Louis does in wanting Hellickson, so although a Rasmus-for-Hellickson swap makes sense, Tampa may not be keen on giving up on a budding pitcher who has already cut his teeth in the AL East; plus, the Rays would be down a starting pitcher.
Fortunately, a solution for Tampa could rest in Upton. The Rays could dangle Upton for a young pitcher in return, and there are several teams who would love a center fielder, including Washington and Atlanta, which have been pursuing one for some time. While the requirement of a good, young pitcher would likely knock out the
Nationals
as contenders, the
Braves
would be a fit if Atlanta deems the risk of not signing Upton acceptable toward giving up one of its young pitching commodities. The
Giants
could also be a fit if they offered
Jonathan Sanchez
. Sanchez is a bit wild but is a quality pitcher with a rising salary as he heads to his final year of arbitration next season.
Increasingly, it appears that Rasmus just isn't a ft in St. Louis, whether La Russa sticks beyond the season. Given Rasmus' talent and age, that could set up a significant trade that could impact St. Louis and another team for years.


For more baseball news, rumors and analysis, follow @cbssportsmlb on Twitter or subscribe to the RSS feed.