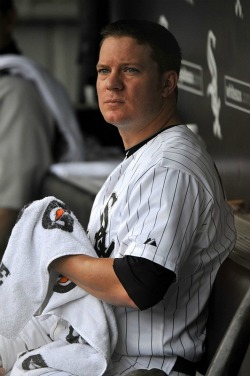 By C. Trent Rosecrans
The White Sox have shut down right-hander Jake Peavy for the season, Scott Merkin of the MLB.com reports.
Peavy, 30, started 18 games and pitched in relief in one more, going 7-7 with a 4.92 ERA. The 2007 Cy Young Award winner had surgery last year to have his latissimus dorsi muscle behind his right shoulder reattached.
"Jake rich now is shut down," pitching coach Don Cooper told MLB.com's Merkin. "The things we are looking at right now are, one, we want to win as many games as we can. Two, we want to keep everybody strong and healthy and continue to finish this season strong."
Peavy had said after his Aug. 31 start against the Twins that he was feeling "run down" and looking forward to the offseason. He then threw 6 1/3 scoreless innings against the Twins on Sept. 6, allowing just four hits and striking out nine.
Still Peavy had said after his last start that he wouldn't make the decision whether he'd be shut down, but was looking forward to the offseason.
"There's no doubt, I look forward to a nice winter and a nice comeback season next year," Peavy said (ChicagoTribune.com) on Tuesday.
Peavy was scheduled to pitch again on Monday against the first-place Tigers, but instead John Danks and Gavin Floyd will both be bumped up a day, but still be on regular rest. Merkin speculates Dylan Axelrod could start against the Tigers in the third game of the series with first-place Detroit on Wednesday. Zach Stewart will pitch on Sunday against the Indians.
Peavy said he hopes to return to his former form next season.
"Like I said, there are times last winter where I didn't know if I'd ever throw again," Peavy told MLB.com on Saturday. "Being able to come back and pitch in the big leagues, there's no doubt it was gratifying. There were a couple of highlights and just a roller-coaster ride. It was learning as we went."
For more baseball news, rumors and analysis, follow @eyeonbaseball on Twitter or subscribe to the RSS feed.