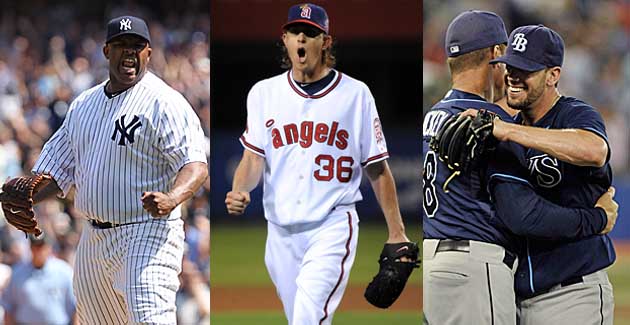 By Matt Snyder
We've all heard the old cliche and even said it from time to time:
No one remembers who finishes second.
In the case of the American League Cy Young, it's really a shame that the sentiment is likely to apply in a few years, because
Justin Verlander
's season for the ages completely overshadowed special seasons from
Jered Weaver
and
James Shields
while again ensuring
CC Sabathia
's great effort was buried in the voting.
Sabathia has absolutely carried the
Yankees
' pitching staff in his three season in the Bronx. His average season has been 20-8 with a 3.18 ERA, 1.19 WHIP and 209 strikeouts in 235 innings pitched. That's a career year for almost any other pitcher, and, again, that's his three-year
average
. And he hasn't finished higher in Cy Young voting than third. This season, it was fourth place and you'd be hard pressed to argue he should be higher. While Sabathia had an excellent year, it was a special season for three different pitchers.
If you want to focus on wins and losses while disregarding all other stats, you might scoff at the mention of James Shields with this group. He was 16-12. Look deeper, though: His ERA was 2.82, his WHIP was 1.04 and he struck out 225 guys in a whopping 249 1/3 innings. And the biggest factor of all here is the complete games. Pitching a complete game does so much more for a team than any stat can measure. The manager can rest easy with a relatively stress-free day. The defense stays in rhythm without having to stand around during pitching changes and the bullpen gets a full day of rest, which translates to better performance in the following several games. And Shields threw an insane 11 complete games in 33 starts. Yes, once every three times out, he completed the job he started. No other AL pitcher had more than five. No NL pitcher had more than eight. No one has had as many as 11 complete games since Randy Johnson had 12 in 1999.
Shields still wasn't as dominant as Weaver, though. The AL All-Star Game starter went 18-8 with a 2.41 ERA, 1.01 WHIP and 198 strikeouts in 235 2/3 innings. He started the season with a six-start stretch where he was 6-0 with a 0.99 ERA and more strikeouts than innings pitched. He had an eight-start stretch in June and July where he went 7-0 with a 1.04 ERA. And he closed with a 1.84 ERA in his last four starts. In many other seasons, Weaver would have been named the Cy Young winner, sometimes in runaway fashion.
But not this one, because Justin Verlander was that damn good. Let's remember that while also not forgetting about the seasons put together by Weaver, Shields and Sabathia. They were too great to simply be forgotten.
For more baseball news, rumors and analysis, follow @EyeOnBaseball on Twitter or subscribe to the RSS feed.