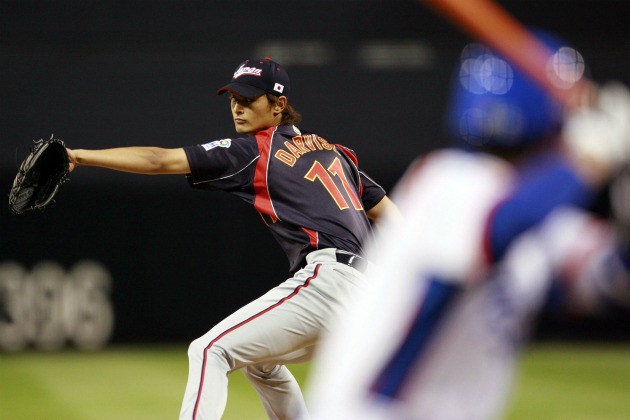 By C. Trent Rosecrans
Japanese right-hander Yu Darvish will be posted by the Hokkaido Nippon-Ham Fighter on Thursday, his agent, Don Nomura, tweeted in the early hours of Thursday morning.
Darvish also posted the news on his blog (in Japanese).
If C.J. Wilson signs quickly, as expected, Darvish, 25, will be the top starter left on the market.
Last season for the Hokkaido Nippon-Ham Fighters, Darvish went 18-6 with a 1.44 ERA, striking out 276 batters in 232 innings. In his seven-year career, he's 93-38 with a 1.99 ERA, striking out at least 200 batters in the shorter Japanese season four times and walking more than 50 just once. He hasn't posted an ERA more than 2.00 since his second year in the top level of Japanese baseball -- and he was 19 for most of that season.
Many teams will be interested in the right-hander, including the Yankees, Blue Jays, Nationals, Angels and Rangers -- the five expected to be the front-runners. The Red Sox could also be interested, especially with new manager Bobby Valentine's experience in Japan where he managed against Darvish. Rosenthal tweets that Valentine "loves" Darvish. Rangers general manager Jon Daniels and Blue Jays general manager Alex Anthopoulos traveled to Japan this season to scout Darvish in person.
The posting is just the first part of a possible move stateside. After Darvish is posted, teams will have a period to submit blind bids for the opportunity to sign him. The team with the highest bid will win the right to negotiate with Darvish and after signing him will not only have to pay Darvish, but also the posting fee, which goes only to the Fighters.
Full Winter Meetings Coverage
|
Free Agent Tracker
For more baseball news, rumors and analysis, follow @eyeonbaseball on Twitter or subscribe to the RSS feed.