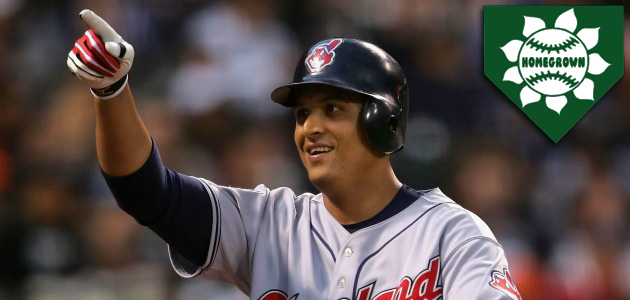 By C. Trent Rosecrans
What if players were only permitted to stay with the team that originally made them a professional? No trades, no Rule-5 Draft, no minor or major league free agency ... once you are a professional baseball player, you stay in that organization. This series shows how all 30 teams would look. We give you: Homegrown teams.
To view the schedule/past entries of this feature, click here.
In the 90s, the
Indians
welcomed a new ballpark with a cast of homegrown talent and twice used that to go all the way to the World Series, losing to the
Braves
in 1995 and the
Marlins
in 1997. A core of
Jim Thome
, Manny Ramirez, Albert Belle, Charles Nagy, Paul Shuey, Jaret Wright, Julian Tavarez and more helped that Cleveland team become a power in the middle part of the decade before the pieces moved on. Thome went to Philadelphia, Ramirez to Boston and others dispersed or saw their skills diminish as the window of opportunity passed. The current Indians saw the start of a new influx of talent in 2011 with the likes of
Jason Kipnis
and
Lonnie Chisenhall
, but more talent needs to come out of the system for the Indians to continue the promise of the first half of the 2011 season. The franchise has shown smart drafting and good development can get them to October baseball, and that it's the best way for a team of their means to get there -- and return.
Lineup
1. Jason Kipnis, 2B
2.
Marco Scutaro
, SS
3.
Victor Martinez
, C
4. Jim Thome, DH
5.
Jhonny Peralta
, 1B
6.
Luke Scott
, LF
7. Lonnie Chisenhall, 3B
8.
Ben Francisco
, RF
9.
Jose Constanza
, CF
Starting Rotation
1.
CC Sabathia
2.
Fausto Carmona
3.
Jeremy Guthrie
4.
Bartolo Colon
5.
Josh Tomlin
Bullpen
Closer -
Vinnie Pestano
Set up -
Tony Sipp
,
Aaron Laffey
, Danys Baez,
Edward Mujica
,
Rafael Perez
, Brian Tallet
Notable Bench Players
There are some bit pieces, but not too much overwhelming talent coming off the bench. The best pieces are
Maicer Izturis
,
Kevin Kouzmanoff
and
Russell Branyan
.
What's Good?
This team could put up some runs, with a heart of the order featuring Martinez, Thome, Peralta and Scott, that's for sure. You've also got Sabathia leading the staff, and as the
Yankees
showed this past season, that can be enough to win the toughest division in baseball. Carmona is inconsistent, but still has a live arm, while Guthrie could thrive in a new environment and Colon proved he still has a little something in the tank during his 2011 season in New York.
What's Not?
Even if this Indians staff is a slight bump up from the Yankees' of 2011, the bullpen is a step down -- and the bullpen was one of the big reasons New York was able to win with a rotation featuring Sabathia and prayers for rain. The bench here is also thin.
Comparison to real 2011
The Indians were one of the feel-good stories for much of 2011, leading the American League Central for most of the first half of the season before fading and finishing the season 80-82. This hypothetical team has a better offense, better starting pitching and a worse bullpen. It's in no way a complete team, but it would have a chance at a winning record. The
Tigers
finished 95-67, well ahead of anyone else in the division. No, this Cleveland team wouldn't challenge the Tigers, but it would likely be better than the real 2011 Indians.
Next:
Miami Marlins
For more baseball news, rumors and analysis, follow @eyeonbaseball on Twitter or subscribe to the RSS feed.