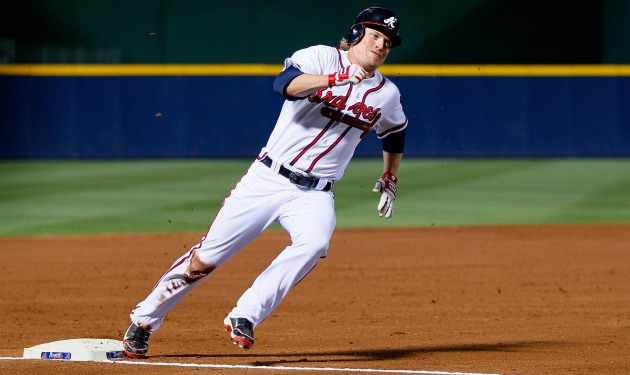 By Evan Brunell
On Tuesday,
Fangraphs unveiled
a new statistic titled Ultimate Base Running. The calculation of UBR is similar to how the efficiency of outfield arms are calculated for use in Ultimate Zone Rating, one of the best freely available metrics to measure defense. Here's Fangraphs on how its calculated:
Whatever credit (positive or negative) is given to an outfielder based on a runner hold, advance, or kill on a batted ball is also given in reverse to the runner (or runners). There are some plays that a runner is given credit (again plus or minus) for that do not involve an outfielder, such as being safe or out going from first to second on a ground ball to the infield, or advancing, remaining, or being thrown out going from second to third on a ground ball to SS or 3B.

Runs are awarded to base runners in the same way they are rewarded to outfielders on "arm" plays. The average run value in terms of the base/out state is subtracted from the actual run value (also in terms of the resultant base/out state) on a particular play where a base runner is involved. The result of the subtraction is the run value awarded to the base runner on that play.
Enough with the mechanics of the statistic. Let's take a look at the season leaders are in UBR. Keep in mind two things: First, UBR is a cumulative statistic. That is, the more you play, the more your UBR will change, so those who haven't played much this season will rank low on the leaderboard in part due to lack of playing time. Next, it's too early to judge the effectiveness of UBR. The defensive statistic of UBR tends to need three full seasons of data to get anything usable for defensive judgement. It's not yet clear if UBR can be relied on immediately or if more time is needed. Still, this data is a leap forward in player evaluation, as baserunning skills (not to be confused with speed or stealing) were one of the few remaining hurdles to clear to get an overall look at a player's effectiveness.
Here are the top 10 baserunners in 2011 according to UBR, plus their career marks in parentheses. Data only goes back to 2002, so an asterisk will denote one season of missed data. For example,
Ichiro Suzuki
receives one asterisk as he played in 2001. Keep in mind that while this list can help strip out strong baserunners from those who bumble their way around the bases, it's still a list influenced by speed. Going second to third on a fly ball is easier when you run like Usain Bolt.
There's a couple interesting names here, but by and large, this list is far from surprising. It's comprised of speedy or competent runners who need to bring value beyond their traditional offensive skill set to remain valuable.
And now, your trailers, a list that is wholly unsurprising:
Want more? How about the top and bottom five from 2002 to today?
The top:
Juan Pierre (43.6)
Chone Figgins (41.7)
Jimmy Rollins (33.6)
Carlos Beltran (30.5)
Rafael Furcal (28.6)
Former/kinda current speedsters who have had age and injuries affect their speed. Unsurprising.
The bottom:
Konerko
Ortiz
Jim Thome (-33.9)
Pat Burrell (-30.6)
Kevin Millar (-30.2)
For more baseball news, rumors and analysis, follow @cbssportsmlb on Twitter or subscribe to the RSS feed.