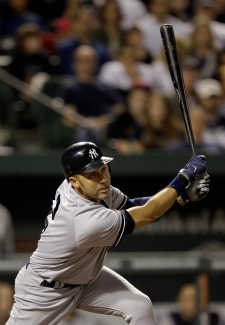 By C. Trent Rosecrans
3UP
Derek Jeter, Yankees -- I often wonder how long can you keep saying, "It's still early." I think when an everyday player can raise his average .046 points in one day, it's still early. That's what Jeter did on Sunday with his 4-for-6 performance against the Orioles. Jeter notched his second extra-base hit of the season, a second-inning double and added an RBI single in the 11th inning. He still doesn't look like the captain of old, and his .257/.317/.284 line isn't anywhere near looking like Minka Kelly, but it's better than the .221/.289/.235 line he brought to Sunday's dance. He also moved up the all-time hit list, past Frank Robinson for 30th overall with 2,945.
Red Sox pitching -- John Lackey's eight-inning performance was just the latest great start for Boston hurlers. Boston completed its sweep of the Angels with a 7-0 win in Anaheim on Sunday, marking the team's first back-to-back shutouts since June, 2007. Boston has now won eight of nine, with Red Sox starters going 7-1 with a 0.88 ERA during that string. The Angels' only runs off a Red Sox starter in the four games (and 30 innings by Red Sox starters) was Torii Hunter's seventh-inning homer off Josh Beckett on Thursday night.
Roy Halladay, Phillies -- As Matt pointed out the other day, the Padres didn't stand much of a chance against Halladay following his bad performance earlier in the week. While Wade LeBlanc performed well for the Padres, he couldn't match Halladay, who went 8 2/3 innings, allowed five hits and one run, matching his career-best with 14 strikeouts.
3DOWN
White Sox offense -- Chicago's lost 10 of 11 and scored three or fewer runs in all 11 games. In those 11 games, the White Sox are hitting just .193/.256/.282 with seven home runs, with more strikeouts (76) than hits (69). Adam Dunn is struggling as much as anyone, hitting .098/.213/.195 since coming back from his appendectomy.
Carlos Zambrano, Cubs -- The Cubs' right-hander allowed five runs in the first inning on Sunday and had his streak of 11 consecutive victories halted. However, on the positive side, Zambrano didn't blow up after a rough start as he has in the past, settling down and giving up just one more run in his remaining four innings.
Mariano Rivera, Yankees -- Rivera blew his second straight save opportunity -- and if not for a good defensive job by right fielder Nick Swisher, second baseman Robinson Cano and catcher Russell Martin, it would have lost the game. After a rain delay in extra innings, the Yankees were able to pick up Rivera and score three in the 11th for a victory.
For more baseball news, rumors and analysis, follow @cbssportsmlb on Twitter or subscribe to the RSS feed.