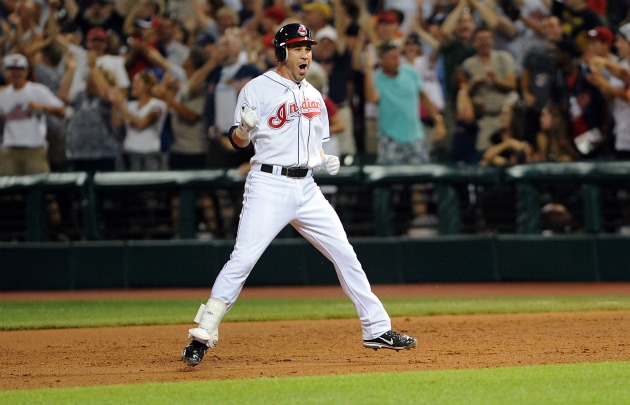 By C. Trent Rosecrans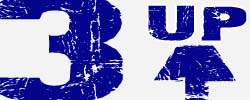 Jason Kipnis, Indians: In the sixth plate appearance of his young career, the Cleveland rookie delivered his first hit -- a single to right. That's great and all, but the fact that it was done with two outs and bases loaded in the ninth inning of a tie game is what lands him here. It overshadowed the play with bases loaded and one out when Travis Buck grounded into a 9-2 putout -- Torii Hunter was playing in the infield to try to cut down the winning run at home, which he did. Temporarily.
Chris Denorfia, Padres: There are few plays as awesome as a steal of home. In the span of two days, Denrofia gave us one of the season's best defensive plays -- robbing Raul Ibanez of a home run on Sunday -- and then following that up with a great offensive play Monday. In the second inning of the Padres' 5-4 victory over the Phillies, Denorfia was on third with a runner at first and as soon as Cliff Lee lobbed a throw over to first, Denorfia broke toward the plate and beat the throw home for San Diego's first steal of home since Mark Sweeney did it in 2005.
James McDonald, Pirates: The Pittsburgh right-hander recorded a career-high nine strikeouts and picked up his seventh win of the season in a 3-1 victory over the Braves. Pittsburgh has now started seven of the last eight McDonald has started. McDonald lasted just 5 1/3 innings -- and has yet to complete seven innings in any start -- but that's good enough with the Pirates' bullpen. McDonald left the game with bases loaded and one out in the sixth inning, but Chris Resop got a popup to the catcher and a strikeout to end the threat. Joel Hanrahan worked a perfect ninth for his 29th save.
---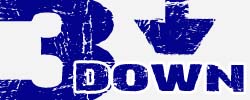 Twins pitchers: The most successful Twins pitcher on Monday started the game at first base before moving to right field and then the mound. Michael Cuddyer was the only Twin to take the mound and leave unscathed. His scoreless ninth was one of just two scoreless innings tossed by the Twins in their 20-6 loss to the Rangers. Left-hander Phil Dumatrait wasn't charged with a run, but came into the game in the fifth inning and allowed a two-run double to Elvis Andrus, but both runs were charged to Chuck James. Starter Nick Blackburn allowed 11 hits and nine runs (six earned) in 2 2/3 innings. Jose Mijares was charged with five runs (four earned) in 2/3 of an inning. James allowed four runs in one inning and Alex Burnett allowed two runs. Cuddyer gave up two hits and a walk, but no runs in the eighth inning.
Marco Scutaro, Red Sox: Several Red Sox hitters failed to help their cause late in the team's 3-1 loss to the Royals in 14 innings on Monday night and Tuesday morning, but Scutaro was the worst offender. In the 12th inning, Scutaro missed the sign for the suicide squeeze, allowing the Royals to easily get Josh Reddick in a rundown. He then singled and was thrown out at second trying to stretch a single into a double. He then ended the game in the 14th looking at a called third strike from Joakim Soria. The Red Sox put runners in scoring position with less than two outs in three of the five innings from the ninth to the 13th and failed to capitalize.
J.P. Howell, Rays: Howell gave up two singles and a walk to help bring Oakland to within a run of the Rays in the seventh inning before being pulled for Joel Peralta, who allowed a two-run double to Conor Jackson to give Oakland the lead for good. In 17 2/3 innings this season, Howell has allowed 21 runs and 18 earned runs.
For more baseball news, rumors and analysis, follow @cbssportsmlb on Twitter or subscribe to the RSS feed.