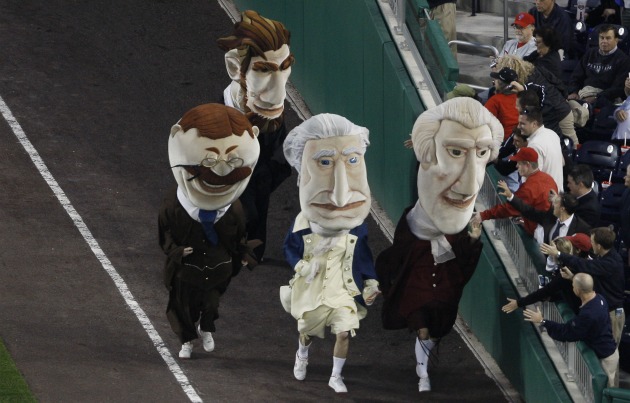 By Evan Brunell
RUN, TEDDY, RUN
: "Teddy Roosevelt" has never won one of the Presidents Races the Nats have held since arriving in D.C. Roosevelt is working on a losing streak of over 300 games, but that could change on Memorial Day.
Some major reasons it might change include
Jayson Werth
's surprising interest in the race. Werth has spoken before about how Roosevelt never gets to win and is disappointed by that fact. He's also been caught on camera disgusted when Roosevelt doesn't win the race. A bit odd, but the Nats have to pay attention to their face of the franchise, who is soaking up over $100 million of Ted Lerner's money. Maybe the Nats should give Roosevelt a victory to placate Werth.
"Roosevelt"
tweeted after Sunday's race
that he had "a good feeling" about the Memorial Day race, which will come as the Nats hold a fundraiser to benefit the military by allowing those who make a donation to Hike for Heroes to run the bases. It's as good a day as it will get for a changing of the guard, as the actual Teddy Roosevelt has a connection to both the military and Memorial Day. And since no other D.C. sports teams are active on Monday, a Roosevelt victory could land on the front page of the papers. Yes, really. (
Washington Post
)

VOTE FOR THE FAT MAN
: GQ is pulling out a call to decide who the fattest baseball player of 2011 is. Named after Rich Garces, does Garces still deserve the mantle, or will someone like
Jonathan Broxton
carve out his own legacy? (
GQ.com
)
POSADA DONE
: As a full-time player, that is. Manager Joe Girardi has chosen to permanently sit
Jorge Posada
against lefties, allowing him to rotate
Derek Jeter
and
Alex Rodriguez
in the DH spot, giving them essentially a half-day off. (
Lohud.com
)
CLOSING TIME
:
Ryan Franklin
isn't giving up on an eventual return to the closer's role in St. Louis. He mopped up on Saturday with 2 2/3 scoreless innings, which represented a major step forward. Next up: Doing more of the same until he proves he can get batters out consistently. (
St. Louis Post-Dispatch
)
SANDS OF LEFT
: The
Dodgers
' motley crew of left-fielders hasn't been up to snuff so far this season, but
Jerry Sands
is hoping to fix a position that has been in flux for L.A. for years with no long-term answer. GM Ned Colletti believes that Sands will be in left for years to come, but his slow start this season suggests he has a ways to go. (
Los Angeles Times
)
ROUGH RETURN
:
J.P. Howell
, one of the
Rays
' best relievers over the last several years, is finding the going difficult after missing 2010 and a chunk of 2011 in his recovery from a torn left labrum. In 2 1/3 innings, he's posted an 11.57 ERA -- but that figures to change once Howell gets back into the groove. (
St. Petersburg Times
)
THE TRAVELS OF BRANYAN
:
Russell Branyan
has been around, as his 11 teams in his career can attest. Check out Branyan's ride through a major-league career in photos. (
Orange County Register
)
SHELLED
: Check out this box score from the Salt Lake Bees, the
Angels
' Triple-A affiliate. Notice who pitched --
Scott Kazmir
, who fell to 0-2 with a 36.00 ERA by giving up 10 earned runs in 2 1/3 innings. Kaz's career has plummeted so far down the rabbit hole it's probably never coming back. (
MiLB.com
)
COBB TIME
: Yet another heralded Rays prospect will hit the majors as Alex Cobb will replace
Andy Sonnanstine
in the rotation starting Tuesday. It's anyone's guess how long Cobb will stick, but
Jeff Niemann
isn't anywhere near a return from injury, so Cobb could pick up a few starts. (
Tampa Tribune
)
For more baseball news, rumors and analysis, follow @cbssportsmlb on Twitter or subscribe to the RSS feed.