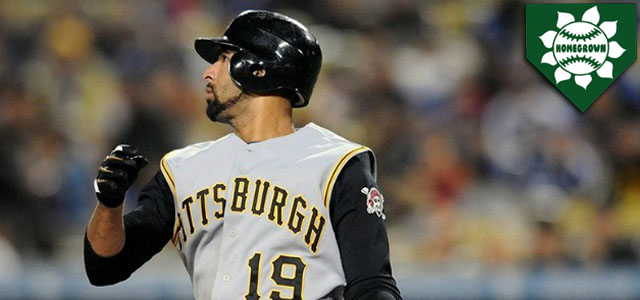 By C. Trent Rosecrans

What if players were only permitted to stay with the team that originally made them a professional? No trades, no Rule-5 Draft, no waivers, no minor- or major-league free agency ... once you are a professional baseball player, you stay in that organization. This series shows how all 30 teams would look. We give you: Homegrown teams.
In 2011 the Pirates extended their streak of losing seasons to 19, finishing 72-90 after a promising start. However, there are signs of the team finally putting it together, with much of their talent coming from within the organization. Andrew McCutchen and Neil Walker are among the future stars the team has drafted and kept. If Pittsburgh had been able to keep a couple more of its homegrown players, the Pirates could at the very least be looking at fielding a winning team.
Lineup
1. Andrew McCutchen, CF
2. Neil Walker, 2B
3.
Jose Bautista
, RF
4.
Aramis Ramirez
, 3B
5.
Ryan Doumit
, 1B
6.
Jeff Keppinger
, SS
7.
Ronny Paulino
, C
8.
Nyjer Morgan
, LF
Starting Rotation
1.
Paul Maholm
2.
Bronson Arroyo
3.
Tom Gorzelanny
4.
Brad Lincoln
5.
Chris Young
Bullpen
Closer - Juan Oviedo (
Leo Nunez
)
Set up -
Matt Capps
, Mike Gonzlaez,
John Grabow
,
Sean Burnett
,
Tony Watson
Long -
Tim Wakefield
, Zack Duke
Notable Bench Players
Pedro Alvarez
,
Rajai Davis
,
Brent Lillibridge
,
Nate McLouth
,
Alex Presley
What's Good?
The top of the lineup is the envy of just about any organization -- there's speed at the top and power throughout the first four batters. Jose Bautista will forever be the one that got away, but not just for the Pirates, who drafted him in 2000, but also for the
Orioles
,
Rays
,
Royals
and
Mets
, who all acquired -- a got rid of -- Bautista at some point. But still, the Pirates had him twice and are now watching him blossom as one of the game's best players while in a different uniform. In addition to the top of the lineup, the bottom of the lineup isn't too bad, while the bullpen is stout.
What's Not?
The rotation isn't going to intimidate too many batters, but the team will put up some runs and leads have a good chance of being held with that bullpen. Keppinger is a solid bat and makes all the plays in front of him, but doesn't quite have the range most teams look for at shortstop. He can play there, but it isn't an ideal spot.
Comparison to real 2011
The Pirates rotation overachieved in the first half of 2011 and flopped in the second -- as Pittsburgh went 25-47 after finding themselves trailing by just a game in the NL Central at the All-Star break. While this lineup would put up more runs, its starters would allow more. That said, the improved lineup and bullpen would be good for several more wins and probably even give the team a winning record.
Up next:
Chicago
Cubs
For more baseball news, rumors and analysis, follow @eyeonbaseball on Twitter or subscribe to the RSS feed.