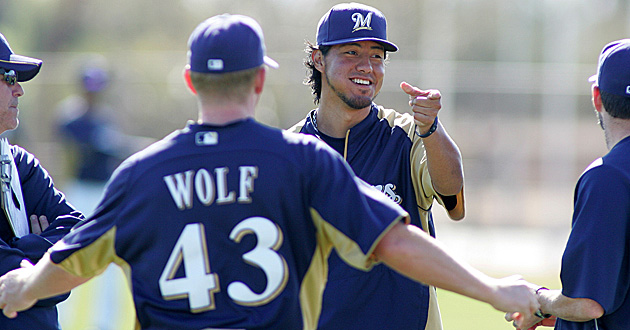 By Matt Snyder
The 2011 NL Central champions likely knew they were going to lose one of their superstars heading into the offseason, so it wasn't huge news to Milwaukee when
Prince Fielder
signed with the
Tigers
. But when news broke in December that
Ryan Braun
was facing a 50-game suspension, it was a disaster. And then just a few days ago, Braun was exonerated and Brewer Nation could breathe a sigh of collective relief. The net result has to be momentum heading into spring, so maybe the Braun test was a blessing in disguise? Otherwise they're just reeling from losing Prince. Anyway, let's dive in.
Scott Miller's camp report:
Gamel to replace Prince?
|
Likes, dislikes
Major additions:
3B
Aramis Ramirez
, SS
Alex Gonzalez
, OF
Norichika Aoki
Major departures:
1B Prince Fielder, SS
Yuniesky Betancourt
, RHP
LaTroy Hawkins
, RHP
Takashi Saito
, IF/OF
Jerry Hairston
Probable lineup
1.
Rickie Weeks
, 2B
2.
Nyjer Morgan
, CF
3. Ryan Braun, LF
4. Aramis Ramirez, 3B
5.
Corey Hart
, RF
6.
Mat Gamel
, 1B
7. Alex Gonzalez, SS
8.
Jonathan Lucroy
, C
Probable rotation
1.
Yovani Gallardo
2.
Zack Greinke
3.
Shaun Marcum
4.
Randy Wolf
5.
Chris Narveson
Back-end bullpen
Closer:
John Axford
Set-up:
Francisco Rodriguez
Important bench players
OF Aoki, OF
Carlos Gomez
, IF
Brooks Conrad
Prospect to watch
It's gotta be
Wily Peralta
, a 22-year-old starting pitcher in Triple-A. He only made five Triple-A starts last season, but he was impressive -- going 2-0 with a 2.03 ERA, 1.03 WHIP and 40 strikeouts in 31 innings. Peralta will obviously begin the season in Triple-A, but if we get into June or July and Peralta is dominating while Narveson is struggling -- or, obviously, injury strikes to any member of the rotation -- we could well see the right-hander at the back-end of the rotation.
Fantasy sleeper:
Mat Gamel
"Why isn't there more hype in Fantasy? For one thing, Gamel is already 26, so he doesn't exactly qualify as a prospect anymore. For another, he hasn't impressed in his brief major-league opportunities so far. To be fair, though, the
Brewers
haven't cared to give him the benefit of the doubt, unwilling to live through his defensive lapses at third base for no more than prospective production. With him at first that's not an issue anymore. He'll have all the time he needs to get comfortable and if his minor-league numbers are any indication he'll be an impact player as a result." - Scott White [
Full Brewers team fantasy preview
]
Fantasy bust:
Aramis Ramirez
"He turns 34 this year. A player that age with that injury history will get hurt at some point and if his numbers begin to decline along with it he could easily drop out of the top 12 at the position. It's coming sooner than later. Why take the risk when you can land a
Pablo Sandoval
at about the same point in the draft?" - Scott White [
Full Brewers team fantasy preview
]
Optimistic outlook
Ramirez and Gamel thrive in the lineup while Gonzalez is a marked upgrade over Betancourt. Greinke and Gallardo both pitch like aces throughout the season while Marcum holds strong as one of the better middle-of-the-rotation pitchers in baseball. K-Rod and Axford form the most dominant eighth and ninth inning combo in the league, too. All this would have the Brewers winning their second consecutive division title and making a run at their first World Series title in history.
Pessimistic outlook
Ramirez starts slow and never recovers, as he's booed consistently by the hometown fans who miss Fielder. Gamel flops at first base, too, leaving the Brewers with a very lackluster bottom-third of the lineup. Greinke falters, Wolf ages quickly and no one can really nail down the fifth spot in the rotation. The best the Brewers can do to overcome these woes is finish fourth, as the
Reds
and
Cardinals
compete for the NL Central while the
Pirates
move into third.
For more baseball news, rumors and analysis, follow @EyeOnBaseball on Twitter, subscribe to the RSS feed and "like" us on Facebook.