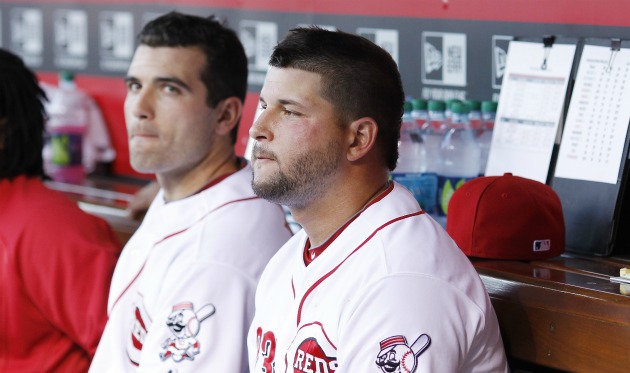 By C. Trent Rosecrans
Every trade happens for a reason -- or two reasons, actually. One for each side. With Saturday's big deal between the Reds and Padres, we'll look at the reasons for both sides. You can read the Reds' reasons here, but here's why the Padres sent Mat Latos to Cincinnati:
The Padres aren't expected to contend in 2012, instead, they're building for the future, just as they did last season when they sent Adrian Gonzalez to Boston. While the Padres sent Gonzalez to Boston because they couldn't afford to pay him what he was going to make, they traded Latos to add overall talent, getting two big leaguers and two prospects who aren't far off.
As for Latos, the 24-year-old came into 2011 as the team's ace, but failed to live up to his outstanding 2010. The Padres were unhappy that Latos came into spring training last season out of shape and they also questioned his maturity at times. San Diego has stockpiled young pitching with the likes of Tim Stauffer and Clayton Richard -- with Casey Kelly, Joe Wieland and Robbie Erlin in the minor leagues getting closer to being able to contribute. And let's face it, you don't need swing-and-miss stuff to succeed at Petco Park.

"Some of these guys who I have been around, I remember guys we had in Cleveland like Jaret Wright and Bartolo Colon who were untouchables. Colon went on to have a great career, Wright was injured. It's part of the risk and reward with any pitcher," Padres general manager Josh Byrnes said. "Mat grew up in a hurry in the big leagues, he was probably going to do very well. We have a very good group of pitchers, and we have a good group in Double-A coming behind them."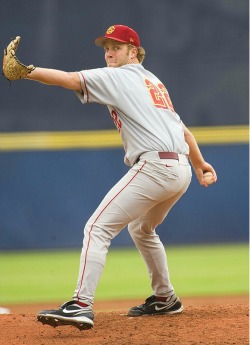 The bottom line for San Diego is they got more talent than they gave up on Saturday.
In all, San Diego got four players and three, if not all four, could play in San Diego this upcoming season.
• Anthony Rizzo may be the Padres' top prospect, but the first baseman wasn't expected to be ready to man the position right away. Yonder Alonso, on the other hand, is more than ready. Playing nearly with any other team, he'd have gotten more than 98 plate appearances than he got with the Reds in 2011. But that's what happens when you're playing behind the reining MVP. In those 98 plate appearances, he hit .330/.398/.545 and showed a bit of power, but his plate awareness was even more impressive. The Reds flirted with putting Alonso in left field and at third base, but he never gained the confidence of the team's top brass at either spot. Byrnes said the team would use Alonso at first, and "probably not" in the outfield.
• Yasmani Grandal was Cincinnati's top pick in 2010. A switch-hitting catcher, Grandal played at three different levels in 2011, hitting 14 home runs between Single-A Bakersfield, Double-A Carolina and Triple-A Louisville. Like Alonso, his former teammate at the University of Miami, Grandal's knowledge of the strike zone and approach at the plate is one of his top attributes. Reviews of his work behind the plate have been mixed so far. While he may not be ready to play in the majors this season, he is still easily the Padres' top catching prospect. San Diego drafted Austin Hedges in the second round of the 2011 draft and have been impressed by him, but he's still several years away from the majors.
• Brad Boxberger (pictured) isn't one of the names many casual fans had heard of, but the Reds were considering him in the mix for the closer spot if they are unable to find a free-agent or trade replacement for Francisco Cordero. The Padres also think he could be a closer for them down the line. A supplemental first-rounder in the 2009 draft out of USC, Boxberger had 11 saves between Double-A and Triple-A in 2011, striking out 93 batters in 62 innings. He has struggled with control, but showed better command in the Arizona Fall League. On Saturday, Reds general manager Walt Jocketty said Boxberger was possibly the key to the deal. The Reds had been dangling the other three players, but didn't want to move Boxberger. But the Padres insisted and Jocketty made the move.
• Finally there's the former All-Star, Edinson Volquez. Still just 28, Volquez's talent has never been in question. He has an electric right arm and a great changeup. As much as his control has been in question, the true struggles have been above the neck. He was twice sent to the minor leagues in 2011, mirroring his behavior from earlier in his career with the Rangers. The Reds, unsure if Josh Hamilton could stay healthy and wanting an elite arm, traded Hamilton for Volquez and Daniel Ray Herrera after the 2007 season. Both Volquez and Hamilton made the All-Star team in 2008, but Volquez then had arm troubles and missed most of 2009 and 2010 after undergoing Tommy John surgery. Since his return, he's showed velocity, but not control or consistency. He could bounce back, but walks have been his biggest problem, so playing at Petco Park won't help him as much as other pitchers.

"Volquez is a bit of a wild card here," Byrnes said. "He was a very decorated prospect, an All-Star coming off Tommy John surgery and he hasn't returned to form. We think his stuff is very good, 90-96, a devastating changeup. Given his age, another year past surgery, our pitching coach and our ballpark, hopefully it can turn around for him."
Latos is a talent, but in the end, the Reds offered just too much for the Padres to walk away from the deal.
For more baseball news, rumors and analysis, follow @eyeonbaseball on Twitter or subscribe to the RSS feed.