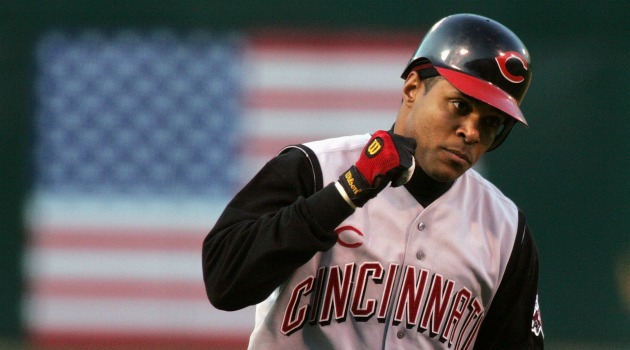 By C. Trent Rosecrans
Get your indignation ready, as the 2012 Hall of Fame ballot has been mailed to the voting member of the Baseball Writers' Association of America.
The 13 new players on the ballot this season are Bernie Williams, Bill Mueller, Ruben Sierra, Vinny Castilla, Tim Salmon, Javy Lopez, Tony Womack, Terry Mulholland, Brad Radke, Jeromy Burnitz, Brian Jordan, Eric Young and Phil Nevin. None of those really seem to have much of a chance to earn the 75 percent necessary to gain enshrinement, which is good news for Barry Larkin.
Last year Roberto Alomoar (90 percent) and Bert Blyleven (79.7 percent) got in, leaving Larkin as the highest vote-getter not to reach 75 percent. Larkin received 361 votes (62.1 percent) in his second year of eligibility, while Jack Morris (53.5 percent) was the only other player to receive at least 50 percent of the votes.
Larkin's strong showing in 2011 suggests he could get the requisite bump in his third year to get to 75 percent, but it could be close.
Players not elected can stay on the ballot for as many as 15 years, as long as they receive at least five percent of the vote.
In addition to the newcomers, Larkin and Morris, the other players on the ballot are Jeff Bagwell, Juan Gonzalez, Edgar Martinez, Don Mattingly, Fred McGriff, Mark McGwire, Dale Murphy, Rafael Palmeiro, Tim Raines, Lee Smith, Alan Trammell and Larry Walker.

Members of the BBWAA with 10 or more years of continuous active membership are eligible to vote, including CBSSports.com's Danny Knobler and Scott Miller.

Next year's ballot will bring more conversation and controversy, as the biggest names of the steroid era appear on the ballot, including Barry Bonds, Roger Clemens, Mike Piazza and Sammy Sosa, in addition to Curt Schilling and Craig Biggio.
For more baseball news, rumors and analysis, follow @eyeonbaseball on Twitter or subscribe to the RSS feed.