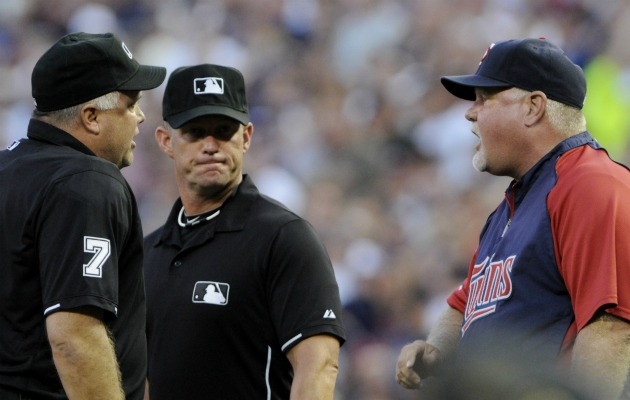 By C. Trent Rosecrans
See, now that's how replay's supposed to work -- maybe.
A day after the Yankees were the victim of a bad call (and worse replay) in Kansas City, the umpires in Minnesota went to the video once again for a Justin Morneau two-run homer in the first inning.
However, Twins manager Ron Gardenhire didn't agree.
"In my opinion, and this is what I told them: 'If one replay shows it could be fair and one replay shows it could be foul, and no one is really positive, how the heck do you change it?'" Gardenhire told reporters (via MLB.com). "I don't get that. They told me they saw a view on TV. But I could show three views right here where the ball disappears behind the pole. It just depends on the camera angle."
While I'm all for expanded replay, we must keep in mind it's not going to solve all of baseball's problems -- and the last two days have shown that.
Fair or foul? You be the judge (Yankees broadcast, Twins broadcast). It sure looked foul to me, but I understand the argument. It's what the NFL calls "incontrovertible visual evidence" and I'm not sure it's there. It's something to keep in mind, even with replay, humans are in charge and the chance for human error is always great, no matter what tools are at our disposal.
Hanley on hold: Marlins shortstop Hanley Ramirez may not return this season, Joe Capozzi of the Palm Beach Post speculated. Ramirez sprained his left shoulder on Aug. 2 while chasing down a fly ball. Ramirez hasn't played since. He had surgery not he same shoulder following the 2007 season.
Quade safe?: Cubs owner Tom Ricketts has been supportive of embattled manager Mike Quade and when he talks to the media during a homestand starting today, it's expected he will support his manager. [Chicago Sun-Times]
Little slugger: I wrote about Indians infielder Jack Hannahan's son the other day, but if you missed it, go here. Anyway, Louisville Slugger sent the youngest Hannahan a bat with his name, birthday and birth weight on it. A cool gesture for Johnny Hannahan, whose dad also uses Louisville Sluggers. [Cleveland Plain Dealer]
Hanson on hold: Braves right-hander Tommy Hanson won't return from the disabled list on Tuesday as previously scheduled. The Braves aren't sure when they'll get him back from shoulder tendinitis, but it may not be too long. It looks like rookie Mike Minor will stay in the rotation, at least through Tuesday. [Atlanta Journal-Constitution]
Congrats?: Brewers infielder Craig Counsell was believed to have dodged setting the record for most consecutive at-bats without a hit recently when he snapped an 0-for-45 skid one hitless at-bat before the record set by Bill Bergen in 1909. However, the Elias Sports Bureau went back and found that Bergen's went 0 for 45, meaning Counsell and former big leaguer Dave Campbell tied Bergen for baseball's longest streak of futility. Campbell achieved the feat in 1973 while with the Padres, Cardinals and Astros. The original 0 for 46 mark was from Joe Dittmar, who had researched it as a piece on Bergen for the Society for American Baseball Reaserach in 1997. Dittmar went back to check his work and saw that he was off by one and Elias was right. So, congrats Counsell and Campbell, or probably more accurately to Bergen, who is no long alone with his streak. [New York Times]
Confidence is key: Toronto's Edwin Encarnacion said his belief in himself has been able to get him through another difficult year. It looked as if Encarnacion might be the odd man out when the Jays were set to promote Brett Lawrie at the end of June, but since Lawrie broke his hand and his call up was delayed. Since June 28, Encarnacion has hit .325/.414/.580 with nine home runs and cut down his strikeouts to 25 with 22 walks over that time. He's also been helped by being taken off third base where he's struggled throughout his career with consistency -- making the really difficult plays and botching the easy ones. [Toronto Star]
Please stay Rays: St. Petersburg mayor Bill Foster said Thursday that he has a "detailed plan" to keep the Rays in St. Pete, but refused to disclose any details. The city clerk said she knew nothing about it, but Foster claims it exists. Don't get too excited about this plan, though, while he didn't spill any beans, he did "clarify" that his "detailed plan" may not include a new stadium. [Tampa Tribune]
Hold on: The Nationals' Tyler Clippard has a pretty good shot at breaking the holds record this year. If you can't quite remember who currently holds it, you're forgiven -- it's not like we're talking about Babe Ruth's home run record (I kid). Clippard got his 32nd hold last night and has a decent shot at breaking Luke Gregerson's record of 40 set way back in 2010. [Baseball-Reference.com]
M.C. Doc Halladay?: Rapper Game references Phillies ace Roy Halladay on his new album. That's all. Just found it interesting and liked the mental image Dave Brown gives of Halladay at the Source Awards. [Yahoo's Big League Stew]
Making dad proud: The other day I teased Reds scouting director Chris Buckley about the team's pick of his son, Sean, in the sixth round. Another team official was there and rightfully noted, "nepotism picks comes in the 40s, not the sixth round." They're right -- and early in his career, Sean Buckley is proving him right. Buckley has 13 home runs already in short-season Class A with the Billings Mustangs, including one that cleared the batter's eye in center field. [MiLB.com]
For more baseball news, rumors and analysis, follow @eyeonbaseball on Twitter or subscribe to the RSS feed.