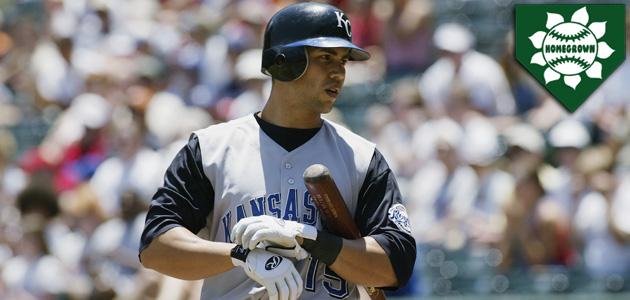 By Matt Snyder
What if players were only permitted to stay with the team that originally made them a professional? No trades, no Rule-5 Draft, no minor or major league free agency ... once you are a professional baseball player, you stay in that organization. This series shows how all 30 teams would look. We give you: Homegrown teams.
To view the schedule/past entries of this feature, click here.
Long a punching bag for fans and media alike, the Kansas City
Royals
have become a darling in recent years due to their strong farm system. We keep hearing about how they'll be a World Series caliber team by 2014 and the first wave of strong talent hit the bigs in 2011 -- with
Eric Hosmer
and
Mike Moustakas
leading the charge. There's more on the way, too. For the purposes of this exercise, though, the Royals get to add two All-Star veterans to the lineup who have long since departed. Oh, and they get back an aloof ace.
Lineup
1.
Alex Gordon
, LF
2.
Johnny Damon
, RF
3. Eric Hosmer, 1B
4.
Carlos Beltran
, CF
5.
Billy Butler
, DH
6. Mike Moustakas, 3B
7.
Salvador Perez
, C
8.
Johnny Giavotella
, 2B
9.
Mike Aviles
, SS
Starting Rotation
1.
Zack Greinke
2.
Luke Hochevar
3.
Aaron Crow
4.
Danny Duffy
5.
Chad Durbin
Bullpen
Closer -
J.P. Howell
Set up -
Jeremy Affeldt
,
Greg Holland
,
Blake Wood
,
Tim Byrdak
,
Mike MacDougal
Long -
Louis Coleman
Notable Bench Players
Matt Treanor
,
Kila Ka'aihue
,
Mark Ellis
,
David DeJesus
,
Mitch Maier
,
Jarrod Dyson
What's Good?
That really looks like a nice lineup. There's obviously some growing up to be done in the 6-7-8 spots, but that's a lot easier done when the top five spots are that strong. And remember, Wil Myers is on the way ...
What's Not?
With Beltran and Damon getting up into their high-30s, the outfield defense would lack range. Of course, DeJesus and Dyson are both available off the bench as late-inning defensive replacements, so the situation wouldn't be dire. There is no real closer, but that's a bit overrated anyway. And the starting rotation leaves something to be desired, for now, until Crow and Duffy prove their worth and some of the other prospects (like John Lamb and Mike Montgomery) start to arrive.
Comparison to real 2011
It's actually pretty similar, aside from a few huge names. These Royals have Beltran and Damon instead of
Melky Cabrera
and
Jeff Francoeur
, while Greinke has been thrown atop the rotation. Those are upgrades and, remember, the real-life Royals didn't get full seasons out of many of their young players. It's reasonable to put this squad above .500 and maybe even lingering around in the playoff chase into August.
Up Next:
Atlanta
Braves
For more baseball news, rumors and analysis, follow @EyeOnBaseball on Twitter or subscribe to the RSS feed.