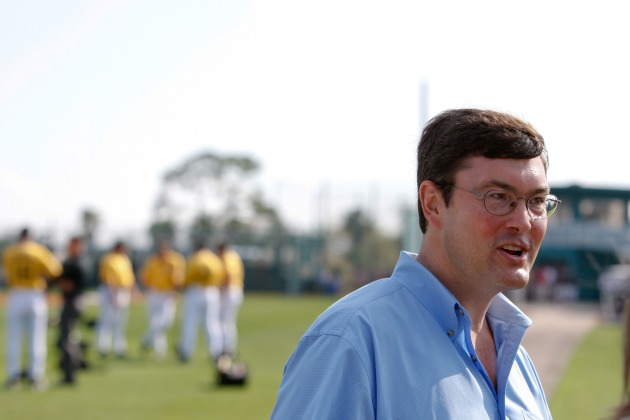 By Evan Brunell
The Pirates are set to embark on what will likely be their 19th straight losing season, and fans have had enough in Pittsburgh. Although owner Bob Nutting has had levied charges against him for not caring about winning and pocketing profits, he is one of these people who cannot wait to see a winner on the field.
"I really can't express adequately how upsetting, frustrating, angering, embarrassing the last several years have been," Nutting (pictured) told the Pittsburgh Post-Gazette. "Obviously, I haven't expressed that very effectively because, clearly, there are some people who question how much I really do passionately care and about how much it hurts to see the team fall as short as it did, capped off with last year."
The Pirates lost 105 games last season, the most they have lost in the 18-year streak of futility and just the second time the 100-loss barrier has been cracked (2001 had 100 on the nose). While it may not seem like it, however, there is room for optimism in Pittsburgh, as a young, burgeoning offense is led by center fielder Andrew McCutchen.
However, the major drawback is that the team's two most exciting pitching prospects in Jameson Taillon and Stetson Allie are far off, having been drafted out of high school in June. But that doesn't mean Pittsburgh can't realistically expect to win soon with the arms nearing the majors, especially if they draft Gerrit Cole with the No. 1 overall pick this upcoming June.
"We've got a lot of pitchers ready to cut their teeth in the majors later this season," GM Neal Huntington said. "It's not like we've got a six-year gap separating our pitchers from our position-player group. The misunderstanding about our pitching is that it's all 16-19 years old. The reality is that we're pleased with Rudy Owens, Bryan Morris, Jeff Locke, Justin Wilson and Brad Lincoln, who are much closer."
While the Pirates' payroll is rather low, the Pirates also believe the anger directed at the franchise for the payroll is misguided. The Bucs have spent the most of any team in the draft the last three seasons with a $30.6 million outlay. They also shelled out $5 million on international free agency, the fourth-most any team spent.
That's why team president Frank Coonelly believes one day the Pirates will have a payroll in the $70 million range, similar to where Cincinnati and Milwaukee play. So while the Pirates will avoid free agency when they can, they will be able to strike when needed.
"It's very expensive to go into free agency to fill holes," Coonelly said. "The perfect world is that we don't have any holes because we've done such a good job with scouting and development that we have players coming through the system. But we know there will be times when we need to fill a need. And could it be an impact player? Yes."
Coonelly does go on to admit the team can't really be in a position to require a frontline ace or middle-of-the-order hitter, as the outlay it would take to acquire these players would cripple the payroll and the ability to retain these players. It's the right idea, but like any other small-market team, it takes a healthy dose of patience and luck to develop these players, and teams can wait years for that to happen.
"The plan is to build a winner in Pittsburgh and to do it as quickly as possible," Coonelly added. "That means building a strong foundation, one that can sustain success over a long time. And that takes patience. It's not easy to have that. Certainly, our patience has been tried as we've struggled mightily at the major-league level. But that's what we've had to do. We need to get it right this time."
For more baseball news, rumors and analysis, follow @cbssportsmlb on Twitter or subscribe to the RSS feed.