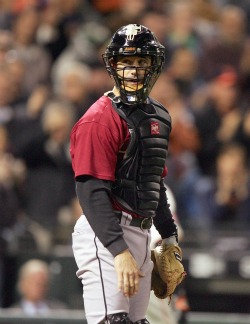 By C. Trent Rosecrans
I'll admit it -- when I'm in my car listening to the radio, there's a much better chance I'm listening to NPR than any type of sports talk radio. I enjoy sports, but not so much the sports talk genre -- heck, even when I worked in the medium, I didn't listen to it much.
That said, I do enjoy talk about baseball on the radio, if just not how it's usually done. So today I was pretty excited when Danny Knobler IMed me this story -- former big league catcher Brad Ausmus is on NPR's Fresh Air today.
The audio from the story is available on the website, but here are some highlights from Ausmus, who retired after 18 seasons last year:
• "I remember walking up the stairs one season when I had a newborn and I'd walk halfway up the landing and I'd have to rest," he says. "There is a physical demand, mostly on your legs."
• "As a base runner, if you're running towards home and the catcher is about to catch the ball or already has the ball, that's when you want to hit him," he says. "That's when you want to jostle him — just before he hits it or hit him hard enough so he drops it. That's ... the time when the contact comes into play at home plate."
• "[I'm thinking] what's the score, what inning are we in, how many outs, what's this hitter's weakness, what's this pitcher's strengths, who's on deck, who could pinch hit, who is up after the hitter on deck — and you kind of go through all of these things in an instant," says Ausmus. "And then you make a decision and put down the next signal. [You're also thinking] how did we get this guy out last time, what pitches did he see, what pitches did we just throw — so there's about 10 to a dozen things that you go through in your mind before you put that signal down."
• "Generally you try to accommodate the umpire — this guy's making decisions on balls and strikes and the last thing you want to do is make him angry," says Ausmus. "And you get to know these guys. ... You have a rapport with them and you know who you can joke around with — so there is a relationship there that goes beyond business."
Anyway, it should go up on the NPR website later today and be an interesting listen. Catchers are usually among the most intelligent, thoughtful players on the field (despite the "tools of ignorance" lesson) and there's a reason so many managers are former catchers.
For more baseball news, rumors and analysis, follow @eyeonbaseball on Twitter or subscribe to the RSS feed.